This article is a review of Health Writer Hub's Principles of Health & Medical Copywriting Course. The author took the course on her own accord and is sharing her honest opinion.
---
---
Five years ago, I finished PT school. I was thrilled to finally be DONE studying and taking tests. Entering the workforce was an exciting experience that I was ready to dive into.
Working was great and earning a living was even better! However, I encountered some less than desirable attributes of working in the clinical field.
I experienced workplace burnout. It weighed on me heavily.
I was tired of dealing with insurance companies, feeling totally over the workplace drama, and beaten down by meeting every single specific (and seemingly urgent) need of my employer and my patients.
My online search began like most. I typed "non-clinical PT" into the search box.
This post may contain affiliate links or codes. This won't increase your cost, but it helps keep TNCPT alive, and free of annoying ads! Thank you for your support. 🙂
Why I decided to take the health and medical copywriting course
I needed to do something different. But what?
I am a physical therapist, and I have a full-time job as a clinician. Like most of you, I spent a LOT of money on education to become a therapist. I didn't want my degree and all that hard work to go to waste, but I knew I needed a change of pace.
Thankfully, I landed on The Non-Clinical PT, which helped expand my perspective on all the possibilities.
That's when I discovered the field of medical and health copywriting. I decided that since I enjoyed writing and had a knack for it, a bit of extra training would enable me to use my physical therapy degree in a different way.
Thanks to Michelle Guillemard at Health Writer Hub, I have been on a path to a new role in a completely different—although somewhat similar—career.
Let me explain.
Copywriting is a form of persuasive writing that seeks to engage target audiences to take action. The action might be any of the following:
Sign up
Comment
Visit a webpage
Call a number
Buy a product
Medical copywriting is the art and science of promoting a product or service in a healthcare or health-related industry.
Principles of Health & Medical Copywriting perfectly outlines the major aspects of the health and medical writing business—and it's designed for beginners. For people like me, who enjoy writing, and have a knack for it, but have NO idea how to get started.
The course covers the following:
What, exactly, health and medical copywriting are
An overview of the health and medical writing profession
Pricing strategies to help you land jobs
Polishing your writing skills to improve your communication
The different forms of copywriting
The writing mindset
Research and how to ensure your work is compliant
Citation and references
Format, design, and layout best practices
Voice and persuasive tactics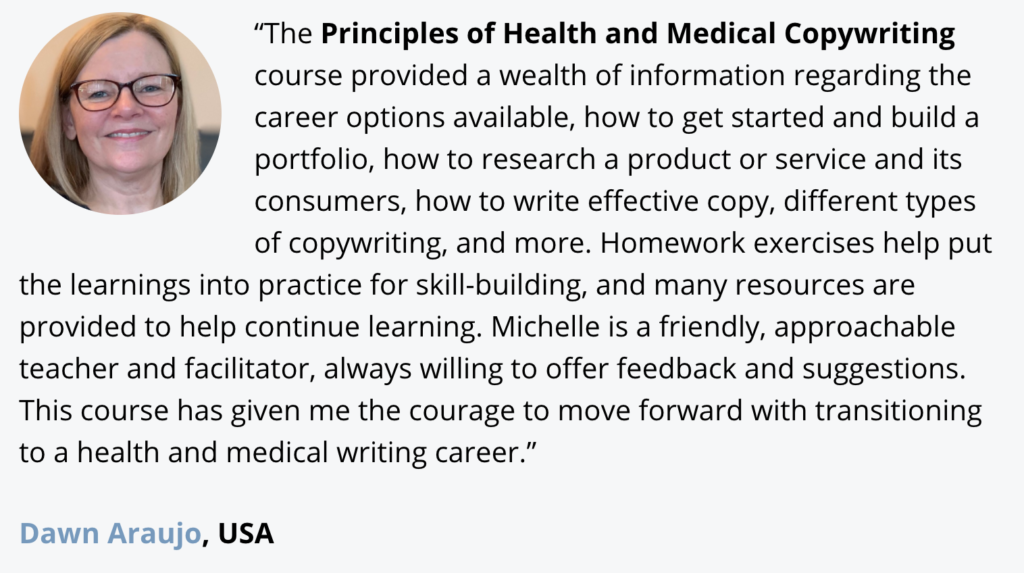 The course covers legal considerations
In the last lesson, Michelle goes a step further and talks about the field of copywriting itself, including how to get started and the important legal issues you may encounter.
It's a comprehensive overview of everything you need to make the change you are so desperately searching for.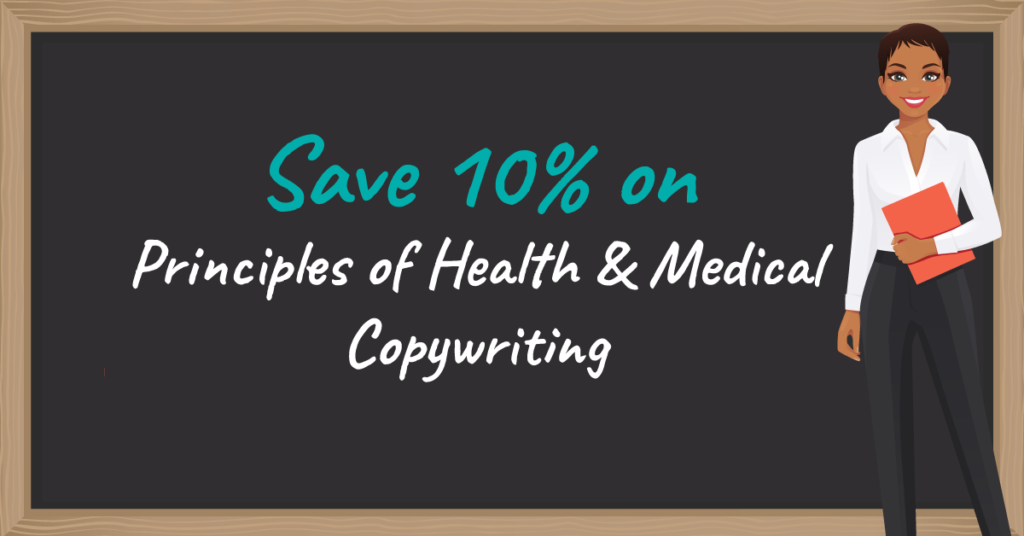 Bonus materials
And, on top of all that, you get access to loyalty discounts of 30% on additional courses, and FREE access to a ton of bonus material!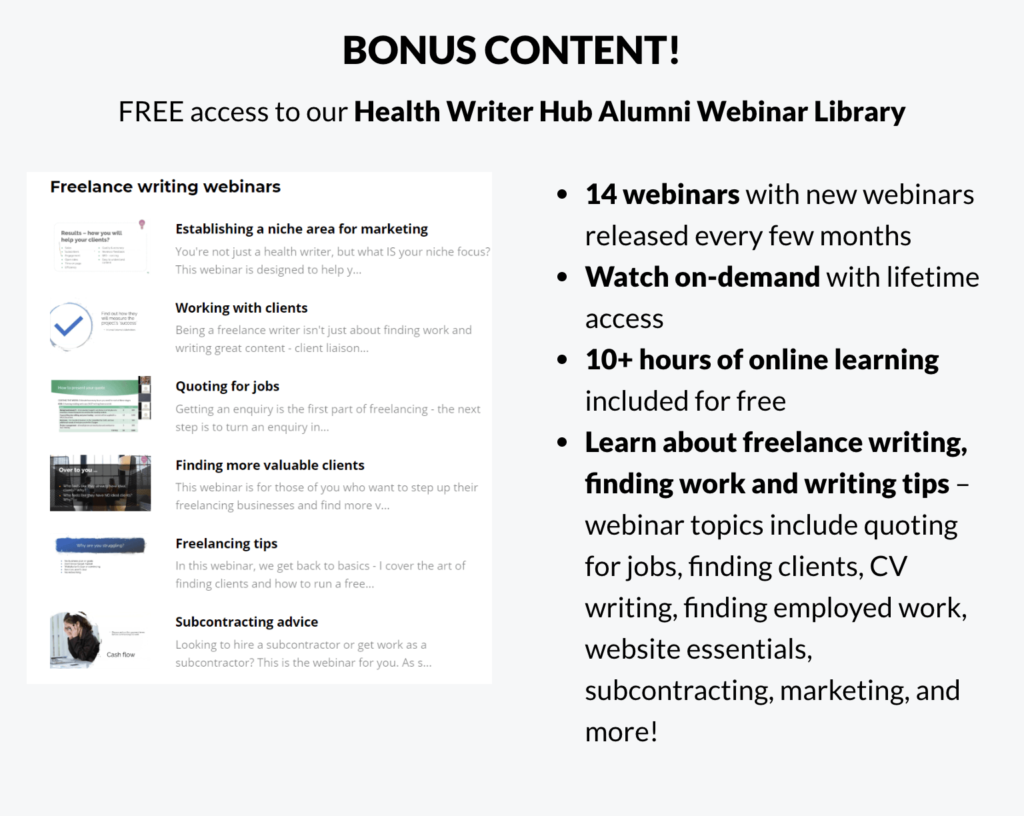 Think you don't have time? You're wrong.
I was concerned I wouldn't have the time to invest in a course on top of my full-time clinical job.
Principles of Health & Medical Copywriting is paced perfectly for those of us who have full-time jobs, have kids running around the house, or just don't feel like working on it some days.
The course is designed to take four to five weeks, but it is completely—and I mean completely—self-paced.
There is homework, but it's not "busy work". It's meaningful and it guides you in applying the practices detailed in the recorded lectures. She makes it easy.
You can listen to the pre-recorded lectures in the car or you can read the full lecture notes straight from the course webpage. She provides invaluable resources that you will use again and again throughout your career, including a variety of templates and additional reading material.
There is an optional live session video chat once during the course where you can meet other members and exchange ideas to gain greater insight into the finer points of the class.
The course is affordable to begin with, especially with the discount exclusive to The Non-Clinical PT, and Michelle also provides an alumni discount to her other courses, including topics like How to Become a Freelance Health Writer and Breaking Into Health Writing.
As if that wasn't enough of a draw, Michelle personally responds to every email. She makes herself available every step of the way, even after you have completed the course. Having someone available to answer questions as you forge a new career path is priceless.
Michelle has also created a Facebook group for alumni of her courses, with exclusive posts and opportunities designed to help get you started on your new career.
Is this course really for me?
PT, OT, and SLP professionals, lend me your ears! We all feel the burden of our jobs once in a while, with that relentless list of new patients and the ever-changing landscape of politics that surrounds our practices.
As rehabilitation specialists we create unique and specific plans of care for our clients, but that's about as creative as our scope of practice allows. We get stuck in ruts and everything begins to feel pretty much the same, day in and day out.
I challenge you to get your creative juices flowing through an outlet that is not rooted in scientific jargon, but through expression designed to encourage action!
(Psst…maybe these persuasive communication skills can even help us encourage our clients to take action and complete their home exercise programs—who knows?)
Whoever you are, you'll get something from this course.
You're burned out. If you're someone like me, suffering from healthcare industry workplace burnout, health and medical copywriting is a fun way to scratch that creative itch you might not even realize you had. And you can make it into a pretty great side-hustle, if not a full-time non-clinical job, if you're smart about it!
You're eager to learn a new skill. If you're someone who just really likes to learn new talents and skills, this is a lighthearted and interactive online course with a wealth of information about health and medical copywriting.
You're building a career as a writer. If you're set on becoming a health writer and you're looking to break into the field, this is an excellent course for beginners and experienced writers alike.
At the end of the day, this course will make you a better writer. It's something to put on your resume, and it will force you into action. I recommend the course without hesitations, and encourage you to stop thinking about that non-clinical career, and to start making it happen!
---
Ready to take action and launch a career that leverages your background AND often lets you work from home?