This week's non-clinical spotlight features another Non-Clinical 101 success story. Andrea Jansen is a PT who now works as a Pre-Service Coordinator (PSC) for naviHealth!
---
This post may contain affiliate links or codes. This won't increase your cost, but it helps keep TNCPT alive, and free of annoying ads! Thank you for your support. 🙂
What is your full name, title, and company name for your current, primary role?
Andrea Jansen, PT, DPT – Pre-Service Coordinator (PSC) for naviHealth

Where are you located?
Lake Saint Louis, MO
Where did you go to PT school, and what year did you graduate?
I graduated from Saint Louis University in 2017.
What did you do when you first finished school, and for how long?
I worked in hospital-based outpatient orthopedics for a little over four years. I mostly worked with post-op and orthopedic injury patients, but I also worked with patients with complex pain and workers' comp injuries.
What did you enjoy about your early roles? What didn't you enjoy
I enjoyed the opportunities for continued learning and marketing. I had some really great co-workers that I loved working and collaborating with.
Toward the end of my time working in outpatient, I became patient care manager for the clinic. I enjoyed the variety of that role and how I was able to perform non-clinical tasks in addition to treating patients.
What else have you done since then, prior to your current role?
In 2019, I started teaching online with VIPKid to help supplement my income. I was teaching children in China before going to the clinic in the early morning.
It was a lot of fun and it really helped to have another stream of income in 2020 when I wasn't able to work as many hours as a PT. Since I was already established and had several regular students, I was able to continue to be successful. I took on this role initially to save extra money for my wedding but since it was so much fun, I continued even after that.
The last six months that I worked as a PT in outpatient ortho, I took on the role of patient care manager, and ultimately decided to focus on that and stop teaching for VIPKid to help my work life balance.
When and why did you decide to do something non-clinical?
I have always been interested in non-clinical roles, and have followed The Non-Clinical PT since I was a new grad. I really started thinking seriously about non-clinical roles at the end of 2020. I'd applied to several roles at naviHealth for almost a year prior to getting hired.
I took a step back and looked at my life and work-life situation; I was constantly stressed, burned out, and overworked.
Growing my family was becoming a priority, and I wanted to make a career change before having children. I am living a completely different life now.
What are you doing these days?
I am working remotely as a pre-service coordinator (now becoming known as clinical review coordinator) for naviHealth. It is under the utilization review umbrella.
Are you still treating patients, or are you solely non-clinical?
I am solely non-clinical. I have considered taking on a PRN PT position, but at this time I just want to focus on being successful in my current role and having great work-life balance.
How long have you been in your current role as a pre-service coordinator?
I've been in this role since November of 2021.
Did you get any special certifications or training along the way to help you get into the PSC role?
I used a lot of the information found in the Non-Clinical 101 course to help prepare applications and for interviews. I used the resume templates from that course as well.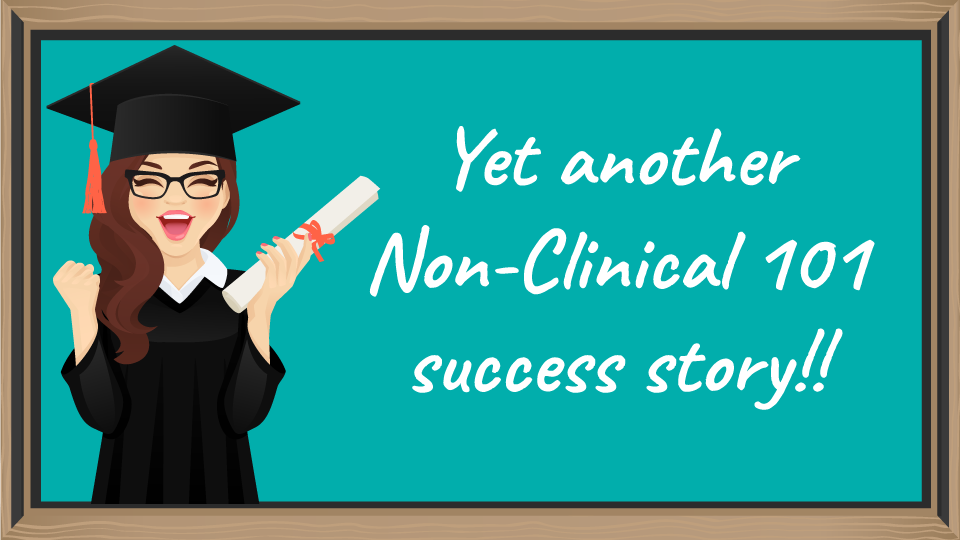 How did you find your job? Did you apply or find it through a connection?
I heard about naviHealth through non-clinical therapy social media groups, and knew I needed to be persistent about applying for jobs there.
They seemed like a great company to work for, and although I had applied for and considered other non-clinical paths, my goal was to work for naviHealth.
Did you do anything special to your resume and cover letter to land the job?
I used one of the templates from Non-Clinical 101. I was constantly changing the resume to improve it.
Eventually, I tried to separate the different "hats" that I wore at the PT job that I was currently holding. That helped me highlight my non-clinical and UR experience more.
What was the interview like for the pre-service coordinator role?
I had a phone interview with a recruiter for a different role. That seemed to go well and she said I would be contacted about an interview with the manager.
A week later, I was informed that they were not going to fill that particular position.
About a month after that, I was contacted to interview virtually for the pre-service coordinator role. That interview was directly with the hiring manager (now, my manager). I was asked several behavioral based interview questions and a couple of case questions.
In preparation, I reviewed CMS Chapter 8 guidelines and did a practice interview with a career coach, which really helped me feel prepared.
How have people reacted to you leaving patient care?
Some people seemed disappointed. I had several patients that were sad to see me go. Others were interested in what I was doing, and wanted to hear more about non-clinical roles.
Most people were supportive of my career change. They knew I worked long hours and was struggling to maintain work-life balance.
What's a typical day or week in the life like for you? What types of tasks and responsibilities fill your time?
I work the 1-10pm shift, so my day is a little different that the typical 8-5.
When I start work, I catch up on emails and follow up on anything that was left from the day before. The first part of my shift is the best time to make calls to providers, so I try to take advantage of that.
What are some of the rewards of your role? What are the biggest challenges?
I work with a really great team and my manager is always making sure I feel supported. It is rewarding when I have a quality call with a case manager, and feel like I was able to help them with the authorization process.
It can be challenging when someone does not agree with a determination, or when I occasionally have to deliver unexpected determinations. I work a later shift, so it can also be challenging to get a hold of providers in the evening.
How did your clinical background prepare you for this role? Which skills transferred?
A clinical background is key to success in this role. My experience in knowing assist levels and discharge barriers is key.
It is also important to know medical information as it pertains to medical stability (lab values, vitals).
Roughly speaking, how are the hours and pay compared to patient care?
It was a decent salary increase for me. Prior to working at naviHealth, I was the patient care manager of a hospital-based outpatient clinic in rural Missouri. I was working 40 hours of patient care, three 10-hour shifts and two 5-hour shifts. I was salaried, and was always working more hours to keep up with documentation and other tasks.
Navihealth has many different shifts for the pre-service coordinator position. I was offered the 1-10pm shift, which I accepted. I was nervous to work this schedule as I am usually an early bird, and although I could have interviewed for a different shift, I didn't want to take the chance.
As it turns out, I honestly love working the evenings, and I'm really glad I stepped out of my comfort zone to take this later shift.
What type of person do you think would do well as a pre-service coordinator?
You need to be detail-oriented, have excellent customer service skills, and not be afraid to ask for help.
Do you work remotely or onsite?
Remotely 🙂
Does naviHealth hire PT, OT, or SLP professionals into non-clinical roles? If so, what type of roles?
They hire PTs, OTs, and RNs for this role.
Did you read any books, take any courses, or do anything special overall to get you where you are today?
Besides taking the Non-Clinical 101 course, I knew someone who worked for the company, and he was able to give me tips. He also worked with me to do a practice interview prior to my interview with my manager, which helped me feel much more prepared.
I followed as many non-clinical rehab groups as I could on social media platforms, and I always looked forward to The Non-Clinical PT's weekly email containing non-clinical jobs. NC101 students get early access to the jobs!
What is a typical career path for someone in the PSC role?
There is room for growth by being a lead pre-service coordinator, clinical team manager, senior management, and beyond.
Some people decide to try a different role (Learning and Development, SICC, Appeals and Denials, etc.)
What is next for you? What are your high-level career aspirations?
Honestly, it seems so crazy that I finally got the non-clinical role I aspired to get. Right now, I still feel like I am learning so much in my current role.
I would like to go back to some sort of patient care PRN but I don't want to overwhelm myself, as I am really able to appreciate my current work-life balance.
Do you have any special advice for others who want to follow in your footsteps?