This week's spotlight is on Paula Horn, a Non-Clinical 101 graduate and physical therapist who is now Supervisor, Patient Training for Tactile Medical!
---
This post may contain affiliate links or codes. This won't increase your cost, but it helps keep TNCPT alive, and free of annoying ads! Thank you for your support. 🙂
What is your full name, title, and company name for your current, primary role?
Paula Horn, PT – Supervisor, Patient Training for Tactile Medical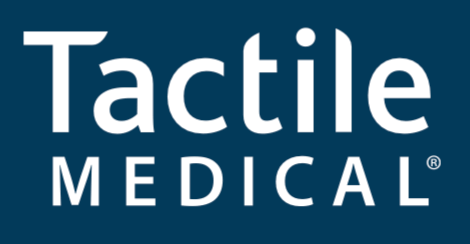 Where are you located?
Dallas, Texas
Where did you go to PT school, and what year did you graduate?
Texas Tech University Health Sciences Center, 1997
What did you do when you first finished school, and for how long?
I worked with adults with developmental disabilities from 1997 to 2000, and again from 2010 through 2020.
In what setting(s) did you work, and what types of patients did you treat?
I worked at a state-funded living center for adults with developmental disabilities providing therapy services to patients. This included neuromuscular education, positioning management, caretaker education, and customized wheelchair fabrication.
I also provided outpatient therapy services for patients injured at work. Therapy services included aspects of orthopedics, neuromuscular reeducation, and proper body mechanics for further injury prevention.
Additionally, I provided home health services for adults. Primarily post-op patients needing therapy services to regain prior level of function.
Ultimately I worked in management in various settings, with the vast majority functioning as Director of the Habilitation Therapies Department at the largest state funded living center for adults with developmental disabilities in Texas. The department consisted of over 70 employees which included 42 licensed professionals in all therapy disciplines, audiology, nutrition, and nursing, as well as therapy technicians and wheelchair fabricators.
Please refrain from contacting our spotlight participants on social media. There are thousands of readers just like you out there. 🙂 Please ask your questions in the comments on this blog post.
If you're a Non-Clinical 101 student, you can network with many of our spotlight participants in the alumni groups!
What did you enjoy about your early roles? What didn't you enjoy?
The best part of being a physical therapist is the patient interaction. I have thoroughly enjoyed working with all patient populations and love to hear about their lives and stories of their past experiences. We have the fortune of getting to meet people with fascinating lives that we never would have met if it was not for therapy.
The part of therapy that I dislike the most is therapists being utilized as money machines for companies. We have valuable skills to offer to our patients, and we often get lost in the mix when executives are looking at the overall goal or mission of the company.
What else have you done since then, prior to your current role?
In an effort to expand my skill set, I have become certified in several areas:
Executive Certificate in Home Modifications (ECHM)
Certified Dementia Practitioner (CDP)
Certified Kinesio Taping Practitioner (CKTP)
Certified Fall Prevent Specialist
I'm working towards a wound care certification
While all of these may not seem to be related, they really look at the patient as a whole person to identify their overarching needs for living a functional independent life.
When and why did you decide to do something non-clinical?
As part of my role as director at the state-funded facility, I:
Conducted audits of documentation to ensure that the information was complete, concise, and clinically relevant
Collaborated with other discipline directors and multidisciplinary teams to ensure that the patient was receiving the most comprehensive and medically appropriate service
Analyzed monitoring data to ensure that plans and equipment were meeting the needs of the patient
Wrote quarterly Quality Assurance reports that were shared both locally and at the state level
Coached licensed providers on a weekly/monthly basis regarding documentation and delivery of services
Served as Lead Subject Matter Expert for the Root Cause Analysis Group
Collaborated on a daily basis with other professionals in nursing, behavioral health, pharmacy, dental, and various other medical departments
I really loved these aspects of my role and wanted to find another role with similar duties.
What are you doing these days?
I have been promoted to a Supervisor in the Patient Training Department which does include many of those aspects that I enjoyed in my previous department director role.
I am auditing documentation, collaborating with the sales department, coaching patient trainers on documentation and customer service, and investigating any trends in concerns noted by the patient trainers.
Are you still treating patients, or are you solely non-clinical?
At this time, I am solely non-clinical. Prior to my current role with Tactile Medical, I was a patient trainer. This role entails providing training to patients that have been prescribed a pneumatic compression device for managing their lymphedema and/or lipedema at home. While this involves working with patients, it is not providing traditional therapy services.
How long have you been in your current role?
I have been in my current role since May of 2022, but I was a patient trainer for over a year before transitioning to the supervisor role.
Did you get any special certifications or training along the way to help you get into your current role?
I took the Non-Clinical 101 course to learn about the various options of non-clinical roles and how to go about finding those roles. One of the most valuable aspects of the course, besides Meredith who is phenomenal, is the guidance of resume creation.
I had over five basic resumes that I used, depending on the role I was applying for, and then adjusted those to fit the specific role I was applying for. This really helped my resume stand out and I would have never been able to polish my resume the way it needed to be without the Non-Clinical 101 course and Meredith's willingness to help a therapist who had not been in the job search market for over ten years!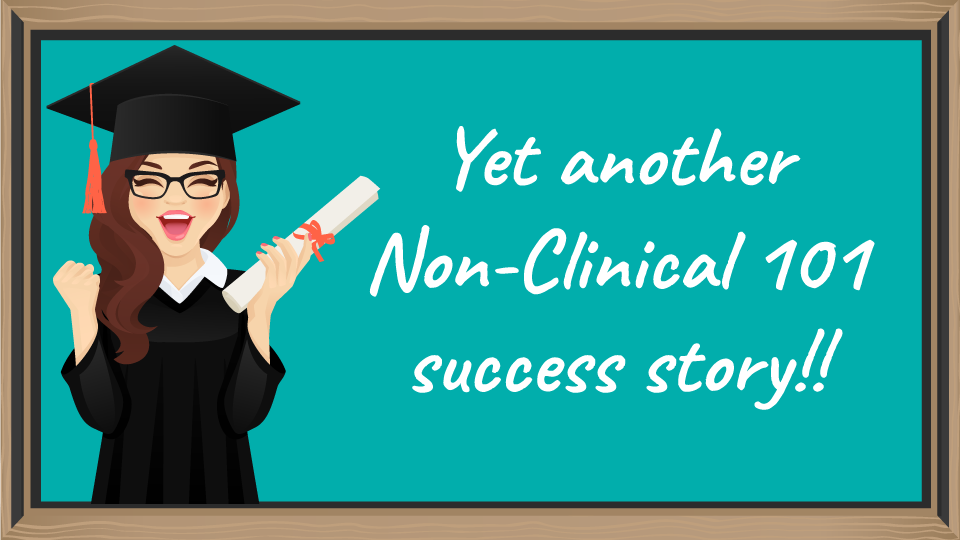 How did you find your job? Did you apply or find it through a connection?
I found my initial role with Tactile Medical through Indeed. I happened to apply at a time that Tactile Medical was expanding the Patient Training Department, and with my background, I was able to obtain an interview.
What was the interview like for the patient trainer supervisor role?
The questions were very much about experience with providing patient education, ability to address challenging situations, and ability to think outside the box at any given time.
What are some of the things you did to stand out, take initiative, and advance in your career?
First and foremost, I communicated to my supervisor that I was interested in moving up in the company and asked what I could do to become a viable candidate for advancement. I then followed that advice which helped me to stand out.
Some of these activities included learning as much as I could about our product and how it benefits patients, helping to coach other patient trainers in areas that they have questions, and presenting at monthly team meetings.
How have people reacted to you leaving patient care?
I haven't really experienced any reaction from family or friends about leaving patient care. Most therapists that I know have been asking how I made the adjustment, and how I found the non-clinical role.
What's a typical day or week in the life like for a patient trainer and supervisor?
In the patient trainer role, it was very much like home health. I made my own schedule. So, I could make it as busy or as slow as I wanted it to be on any given day.
In the supervisor role, it is meetings, documentation audits, coaching, developing guidelines for job duties, and a variety of projects to move the company to the next level.
What are some of the rewards of your role? What are the biggest challenges?
I find it very rewarding to work for a company that provides a very valuable product to an underserved patient population. One of the biggest challenges is learning a new style of leadership as we are all remote. Developing team building skills takes an out-of-the-box idea as we aren't in an office and can't just stop by to see how things are going.
How did your clinical background prepare you for this role? Which skills transferred?
My extensive experience providing not only patient education about therapy and rehabilitation, but also about the purpose and function of DME, has been invaluable in providing the advanced level of patient training that we all strive to provide as therapists.
I am able to share that knowledge when coaching my team on how to enhance their skills with their patient interactions, which helps to not only build their confidence, but also build the patient's confidence in their ability to be independent with their at-home treatment.
Roughly speaking, how are the hours and pay compared to patient care?
What type of person do you think would do well in your role?
Whether it is the patient trainer role or the supervisor role, you need to:
Be compassionate and patient with the patients and their families as oftentimes they are navigating a situation where they are just now learning about their lymphedema, or processing the news that they have cancer
Be creative with problem solving situations in which the patient has significant mobility issues or no support system to assist with their treatments
Have good time management as you need to be able to adjust priorities as assignments change
Be a change agent as the one constant is change!
Do you work remotely or onsite?
All of our patient trainers and supervisors in the Patient Training department work remotely.
Does Tactile Medical hire PT, OT, or SLP professionals into non-clinical roles?
Tactile Medical hires all therapy professionals in a variety of roles including sales, patient training, marketing, and clinical services.
Here is a spotlight on one of my colleagues who also works at Tactile Medical!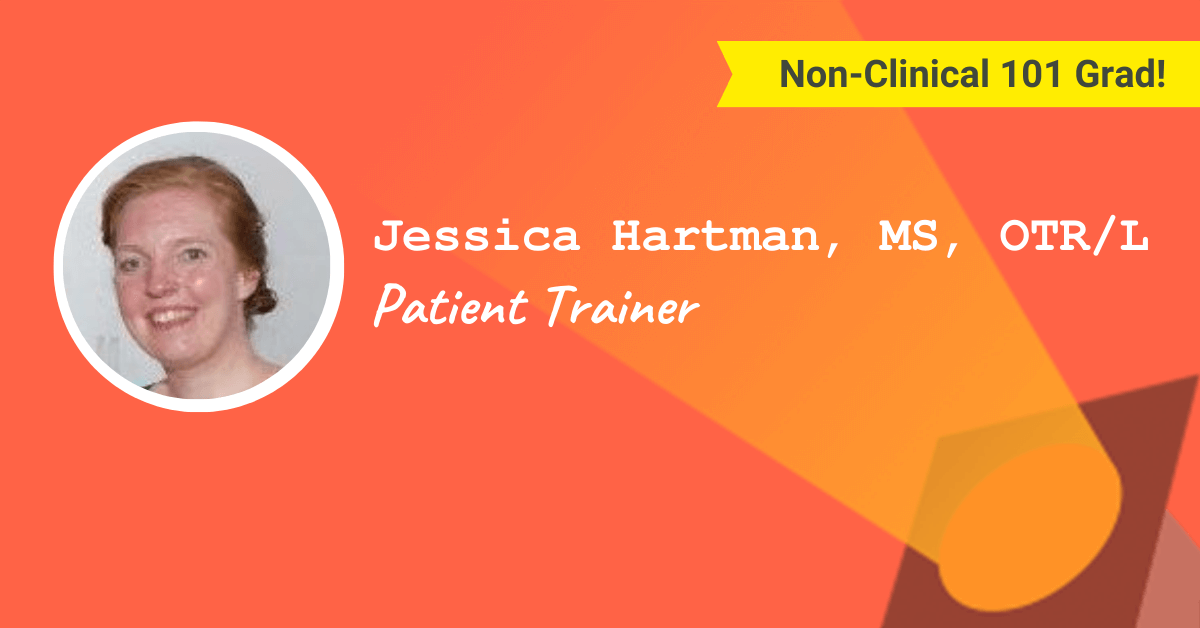 What is a typical career path for someone in your role?
It is not a requirement, but starting as a patient trainer and learning the aspects of the company and the devices that we sell will provide a good foundation to build upon for advancement.
What is next for you? What are your high-level career aspirations?
Although I plan to function in my current role for at least a few more years, I certainly would not pass up the opportunity to advance within Tactile Medical in a data analytics role.
What would you recommend to someone who is considering going into a role like yours?
Believe in your therapy skills and experience as those attributes translate into so many different non-clinical roles.
Patient education skills can translate to sales skills, thorough documentation skills translate into utilization review, and so on.
The Non-Clinical 101 course is a great resource for helping to translate those skills onto your resume for the position you are seeking.
What would you like to change most in your profession, and why? How would you propose doing so?
Improve the education of the medical community and the community at large as to the value that a physical therapist brings.
Or that we can treat pelvic floor disorders and TMJ.
Or that occupational therapists are experts at life skills training, and that speech language pathologists know more than just communication.
What career advice would you give yourself that you wish you had during school?
Build out additional skills while building on my therapy skills. I really wish I had pursued a data analytics degree alongside the therapy degree.
Editor's note: Interested in data analytics? Check out this spotlight on Lauren Rosenthal, who is an account executive and data analyst at Maven Analytics!
What would you teach to today's graduate students in your profession, if you had the opportunity?
Research the areas that you are passionate about, develop a goal to incorporate that passion into your career, and write a plan on how to accomplish that goal.
Do you have any special advice for others who want to follow in your footsteps?
Never give up. Over a year and a half, I had applied to hundreds of positions, had multiple interviews, and finally got the job offer. I firmly believe that what is meant to be will be, so never give up!