This week's spotlight features Jennifer Lane, a Non-Clinical 101 grad and physical therapist who works as a therapist reviewer (utilization review) at AIM Specialty Health!
---
This post may contain affiliate links or codes. This won't increase your cost, but it helps keep TNCPT alive, and free of annoying ads! Thank you for your support. 🙂
What is your full name, title, and company name for your current, primary role?
Jennifer Lane, PT, DPT – Therapist Reviewer (Utilization Management) for AIM Specialty Health (now part of Carelon).
Where are you located?
San Diego, CA
Where did you go to PT school, and what year did you graduate?
University of St. Augustine, San Marcos in 2011
What did you do when you first finished school, and for how long?
Outpatient for about a year, then to a company that mainly did SNF, and ALF services.
After that, multiple short bouts in various clinical scenarios while attempting to find an appropriate niche.
In what setting(s) did you work, and what types of patients did you treat?
I have worked in almost every setting, hospital, SNF, acute rehab, ALF, LTC, outpatient, and home health and have treated patients from infants to 100+ years old.
What did you enjoy about your early roles? What didn't you enjoy?
I always felt rushed, was always having to stay late and give extra in order to do "my job". I felt like I was being taken advantage of.
My ethics and deep empathy for others led me to need to provide above and beyond care for every patient, and my employers were unwilling or unable to pay the extra hours for me to complete this.
When and why did you decide to do something non-clinical?
About two years before the pandemic, I began searching for other degrees or lines of work for a physical therapist and ultimately found The Non-Clinical PT.
What are you doing these days?
I currently work 40 hours a week (no extra unpaid hours) as a utilization reviewer and a mentor resource specialist. I provide insight and reference for the other reviewers at my company, and authorize approvals for more complicated cases.
Are you still treating patients, or are you solely non-clinical?
Solely non-clinical.
How long have you been in your current role?
Since December of 2020.
Did you get any special certifications or training along the way to help you get into your current role?
No special training prior to being hired, but I was told that my large variation in settings and treatment of pediatrics was a factor that influenced my hire.
How did you find your job? Did you apply or find it through a connection?
It was a position that I found through a connection on LinkedIn.
Did you do anything special to your resume and cover letter to land the job?
Yes! I rewrote my resume and cover letter following Non-Clinical 101 guidelines and suggestions, with an emphasis on my managerial experience.
What was the interview like for the role?
There were three interviews. The first was questions that I answered on recorded videos and submitted. The second was a phone interview, and the third was a Zoom interview.
What are some of the things you did to stand out, take initiative, and advance in your career?
How have people reacted to you leaving patient care?
I get a lot of "that's too bad", or "well, that sucks that you aren't using your degree". But, it is quite the contrary.
People who have worked in the medical profession understand the lack of work life balance commonly found in healthcare. They also are the ones reading this blog and either know or are wishing for the balance that can be found in a non-clinical job.
What's a typical day or week in the life like for you as a therapist reviewer?
I review cases for medical necessity and provide advice and resources for other reviewers on more complicated cases. I also have some administrative duties requiring statistics and some data analysis.
What are some of the rewards of your role?
The biggest reward is time.
Time that I am not driving or sitting in traffic commuting. Time that I can use to spend with my family. Time that I can spend taking care of myself.
How did your clinical background prepare you for this role? Which skills transferred?
So many skills transferred: clinical decision making, knowledge of impairments, anatomy, general tissue healing, modalities, psychology of pain, and more.
I don't use manual therapy now, but my knowledge of it helps with clinical decision making. I feel like I use the majority of my skills in my current position.
Roughly speaking, how are the hours and pay compared to patient care?
The hours are way better. I get flexibility for doctors appointments, and taking my daughter to the orthodontist.
What type of person do you think would do well in your role?
Being detail-oriented is especially important. Reasoning skills and application of resources to scenarios that don't always fit the mold are key abilities.
Do you work remotely or onsite?
Remotely.
Does your organization hire PT, OT, or SLP professionals into non-clinical roles? If so, what type of roles?
All disciplines work as reviewers, managers, supervisors, as well as in compliance and other departments.
Did you read any books, take any courses, or do anything special overall to get you where you are today?
This website (The Non-Clinical PT) and their course, Non-Clinical 101, were very helpful.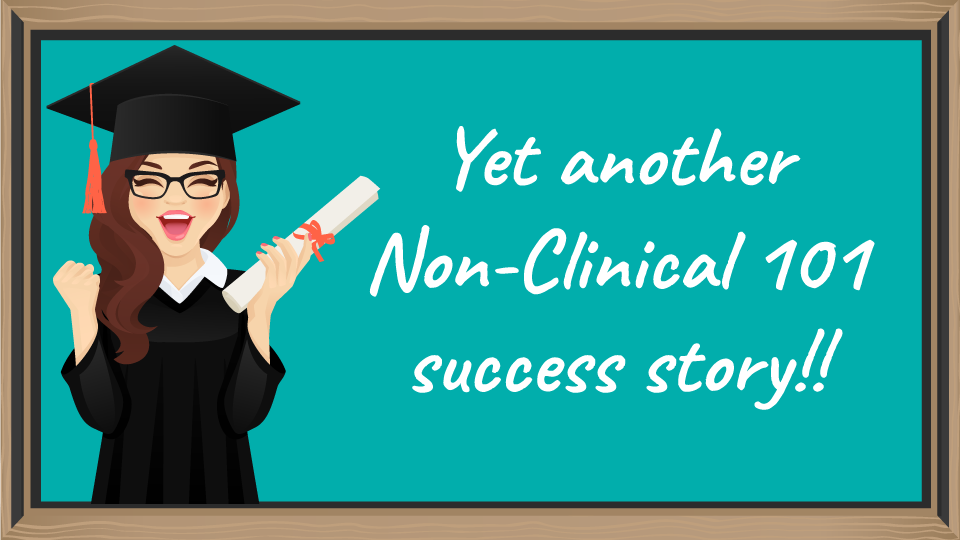 I also used MedBridge to brush up on areas that I feel could use additional knowledge for review purposes. I recently finished the vestibular certification there.
What is a typical career path for someone in a therapist reviewer role?
Reviewers, mentors, trainers, supervisors, managers, and various other departments hire for patient care management and compliance, etc.
What is next for you?
I would like to return to academia eventually.
What would you recommend to someone who is considering going into a role like yours?
Keep applying and trying for interviews! I had to be persistent to break out of patient care.
What would you like to change most in the profession, and why?
Student loans. No higher education for public service should ever result in poverty.
Clearly there were several factors that contributed to the current state of student loans, but universities should not be able to charge the amount that they do.
What would you teach to today's graduate students in your profession, if you had the opportunity?
Documentation is key. Providing appropriate documentation is critical for so many reasons.
Some of the notes I read are truly embarrassing, and I wonder if therapists realize their notes are read by other medical professionals.