Today's non-clinical spotlight focuses on Marla Ranieri, PT, DPT, OCS who went from physical therapist to Chief Development Officer at BetterPT.
---
This post may contain affiliate links or codes. This won't increase your cost, but it helps keep TNCPT alive, and free of annoying ads! Thank you for your support. 🙂
What is your full name and title?
Marla Ranieri, PT, DPT, OCS, Chief Development Officer at BetterPT.
What year did you graduate from PT school, and where did you go?
Columbia University, DPT, 2009, Stanford University, 2005
What did you do when you first got out of school?
Worked out an outpatient facility in NJ for six months and then switched to Hospital for Special Surgery in NYC.
In what setting did you work, and what types of patients did you treat?
While at Hospital for Special Surgery, I started off in the inpatient rehab department, treating orthopedic patients post TKR, THR, discectomy, etc. I then rotated to the ambulatory surgery department, which was treating patients immediately post op sports injuries (RC repair, hip labral repair, ACL, etc.).
After that, I rotated to the outpatient sports department, where I became permanent and treated all types of athletes. In 2013, I became part of the Orthopedic Residency Program at HSS, and was able to rotate through all the sections (Pediatrics, Joint Mobility Center, Hand Therapy, Integrative Care Center, etc).
After my residency, I went back to the Outpatient Sports department and became the Resident Mentor for Outpatient Sports.
How long were you in that role?
I was at Hospital for Special Surgery for six years, and although I left to move back to NJ, I still stayed connected with Hospital for Special Surgery and worked as a per diem therapist/consultant for their Sports Department.
What did you do next in your career?
I decided to work for a large corporation, Drayer Physical Therapy, as a clinical/non-clinical provider.
I treated three days a week and worked on program development two days a week.
At Drayer, I developed their Sport Specific Injury Prevention Assessment Program, in addition to developing Onsite Sport Specific Treatment centers (treatment that takes place inside gymnastics gyms, CrossFit boxes, Dance Studios, etc).
Did you have to do anything special to your resume/cover letter to land that first non-clinical job?
I had the opportunity to speak directly with the CEO and propose the program that I wanted to develop at their company. I put together an entire business plan with strategy on how to implement it.
I was able to do this because I had developed many programs while I was at Hospital for Special Surgery.
I helped developed their young athlete program, their Return to Play post-ACL program, and their Gymnastics Specific Injury Prevention Assessment Program.
It was the development of these programs (while I was a full time treater) that gave me the ability to move forward and take a non clinical role at a different company.
How was BetterPT started?
BetterPT was started as a way to help connect patients to physical therapy clinics easier and faster. It is basically the "Open Table" of physical therapy.
BetterPT was built on the premise of direct access and educating patients that they can schedule and seek out physical therapy whether the injury is a major surgery or a small ache/pain.
It is way for patients to search and find the right physical therapy clinic for them, see available appointments that are convenient for their schedule, and book on appointment. It has also turned into an efficiency tool for clinics.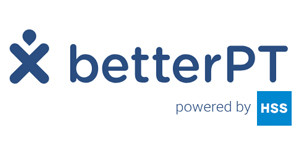 When a patient books an appointment, the clinic receives all of his or her information (demographics, insurance, PT prescription, etc.), and the clinic can reach out to the patient in whatever way they would like.
Clinics can offer patients more convenience with scheduling, can fill those cancelled slots and can offer ability for patients to schedule their appointment at any hour of the day even if the front desk staff is busy or already left for the day/weekend.
There are many additional features in the pipeline, such as sending out paperwork through the app, verifying insurance benefits for patients, and specialty search options, just to name a few.
What is your role like at BetterPT?
I am the Chief Development Officer and since it is a start up, this means I do everything and anything!
My focus is on creating and maintaining new business relationships with clients, EMRs, hospitals, and other healthcare related companies.
However, I also write and coordinate the blog posts, assist in changes and development ideas of the app, help with social media/newsletters, Q&A, etc.
How did you land this role as chief development officer?
I actually developed a home exercise program app while I was on maternity leave. I worked with a developer in India to create it for my patient population (gymnasts onsite at gyms), and ended up meeting BetterPT because they were interested in purchasing my app.
This was when BetterPT was more of an Uber model with on demand PT sent to your home.
After I met with BetterPT regarding my app, they convinced me to come on board to help design what BetterPT is today. I started out as a Director of Business Development and was quickly promoted to Chief Development Officer/Founder.
Did you get any special certifications or have any training along the way to you at this role?
I received a minor in economics when I was at Stanford, and I also worked as a healthcare consultant prior to physical therapy school.
Aside from that, I have had more experiential training than formal training in this role.
What is a day or week in the life like for you?
My week is a bit crazy.
I treat onsite at a gymnastics gym on Mondays, I work in the city at the BetterPT office on Tuesdays, Wednesdays, and Thursdays, and then I continue to work for Drayer running their preventative and cash-based service program on Fridays.
I basically am doing work at night for all three jobs after my two- and four-year-olds go to sleep. So the day never really ends.
What have been the challenges and rewards of this move?
I have the best of both worlds.
I still treat and continue to work with patients, which gives me the satisfaction of making a difference physically every day—and I am able to create/develop and be part of a new disruption in the physical therapy industry, which I feel is important and necessary for our profession moving forward.
We need to empower patients to be able to make an informed decision on where to go for their therapy and also help spread the word about direct access!
In terms of challenges, I would say keeping my sanity while doing all of the above. I would also say startup life is an adventure, so there are times were you are really excited and times when you feel frustrated.
There are people who are very supportive of your product and others who do not embrace change well. It is challenging and exciting all at the same time.
Do you still treat patients, or are you fully immersed in the tech world?
Yes, I treat all day on Mondays from 8:30 am until 6:30 pm. I share my caseload with another therapist who also specializes in gymnasts. She sees my patients on Thursdays. I personally am not ready to let go of treating yet; I enjoy it too much.
What would you recommend to someone who is considering going into the same non-clinical field?
I would recommend them to start developing programs within their current role/job; it is the best way to gain experience and to take the lead. Many people have taken the route of going to business school, which is always another way of moving into a non-clinical physical therapy role, as well.
Do you have any special words of wisdom for the readers?
Just make sure to be passionate about what you want to do and continue to work towards it, no matter how much "extra" work is involved. That will eventually lead you in the role that you have created for yourself.
Do you have any books, courses, podcasts, or anything else you'd recommend? Anything else you'd like to share?
Please check out BetterPt.com and bring it up to your clinic. We are always looking for quality clinics to join the platform. In addition, follow us on social media and read our blog posts.
We encourage clinics/therapists to write content for us to help shape the future of our industry!
---
Thanks for your insight, Marla!