Today's non-clinical spotlight focuses on Ellen Morello, who went from physical therapist to Clinical Program Manager at Physera.
---
This post may contain affiliate links or codes. This won't increase your cost, but it helps keep TNCPT alive, and free of annoying ads! Thank you for your support. 🙂
What is your full name and title at your current job?
Ellen Morello, PT, DPT
Senior Clinical Program Manager at Physera

Where did you go to PT school, and what year did you graduate?
I went to New York Medical College and graduated in 2013.
What did you do when you first finished school, and for how long?
I worked in a school-based pediatric setting by day, and worked in outpatient orthopedics during evenings and weekends for the first four years after PT school. I also taught as an adjunct physical therapy professor.
By my second year out of school, I was running a side hustle (a cash-based PT business) while still working in school-based PT.
What did you do after that, and for how long?
When I moved from Connecticut to Boston early in 2017, I wanted to find a way to retain some of my cash-based clients and manage them remotely. That was when I discovered telehealth PT and digital health, and became fully immersed in these new service delivery models. I felt they would be a game-changer in the PT industry.
After moving, I taught as an adjunct in the DPT program at UMass Lowell while practicing telehealth PT.
At what point did you realize you wanted to do something non-clinical with your background, and why?
When I was running my cash-based practice, I realized that I also love the business side of things. Over time, and with experience consulting for a number of digital health startups, my passion for business operations and startup culture grew. Startups are fast-paced and no two days are the same; that is why I especially enjoyed working with them.
What are you doing these days?
I work for a Telehealth PT startup called Physera. Physera is an app-based physical therapy program. We start with a video consultation to assess and guide the patient, then, if applicable, we manage recovery via the app.
The app has numerous features that make it easy for PTs and patients to stay connected while also making it easy for patients to complete their program.
I work cross-functionally between teams. Along with Physera's Head of Clinical Services, Todd Norwood, I hire, train, and manage our nationwide network of TelePTs.
I also manage our clinical operations, assist with the development our clinical programs, and collaborate across teams.
Are you still treating patients, or are you solely non-clinical?
I continue to treat patients via telehealth, and this is absolutely critical for success in my role. I need to know our program and our clinical software intimately in order to provide feedback to the company on programmatic and software functions.
It helps me manage our PTs better knowing their experience as they deliver care through our software.
If you're still treating patients, about what percentage of your time is spent clinically vs. non-clinically?
The majority of my time is spent managing our telehealth physical therapists and developing our clinical programs. It's hard to put a number on it as it varies week to week.
How long have you been in your current role?
I've been in this role at Physera for over a year.
How did you find your job? Did you apply or find it through a connection?
Physera was mentioned in the Telehealth Physical Therapy Providers Facebook group, of which I am an administrator. I contacted them and expressed my interest in what Physera was doing.
A few months later, Physera's Head of Clinical Services reached back out with an opportunity.
Did you do anything special to your resume and cover letter to land the job?
I worked with a career counselor on improving my resume to highlight my transferable skills. Although I don't think I can credit landing the job to my resume, going through the process was certainly helpful and I highly advise people do do the same from time to time. I will say, though, I think networking was more instrumental to my success than my resume was, in this case.
What was the interview like for the role?
The interview focused on my diverse skill-set and passion for telehealth. I was able to successfully highlight what was so different about me and my background. I also learned more about the company aside from what I found online, which was helpful.
During the interview, showed materials that I had created online, such as a webinar that I put together on telehealth for PTs.
This demonstrated to our CEO that I was a self-starter and would do well in a startup PT environment where employees need to wear many hats taking initiative is a must.
How have you grown in your role?
I have been receiving mentorship through CSweetener, a non-profit organization for women with aspirations of being in the C-suite of a health tech organization. This program has been unbelievable for helping me to round out my skill-set and fill in knowledge gaps in business that I did not get through my clinical education.
Did you get any special certifications or training along the way to help you get into your current role?
I didn't get any specific training, but I did get some industry experience with other startups and telehealth companies. I researched telehealth thoroughly, so I came to the table with self-taught knowledge and skills.
---
Telehealth CEUs
Editor's Note – Here are a few CEU courses that will help you beef up your telehealth resume:
MedBridge Telehealth Courses
Use code TNCPT to get 40% off unlimited CEUs at MedBridge, the largest provider of non-clinical CEUs!
ContinuEd Telehealth Courses
ContinuEd (physicaltherapy.com/occupationaltherapy.com/speechpathology.com) offers unlimited CEUs for just $99 a year. Use code NCPTBONUS13 to get a free bonus month at any ContinuEd site!
---
How have people reacted to your unconventional career path?
If people had negative opinions, I certainly didn't take them to heart. However, there were moments when I felt some "growing pains" and doubted myself. It's important to never let those moments or thoughts get too big.
At the end of the day, you have to be okay with your own choices. I stretched my boundaries and stepped outside my comfort zone when trying to break into a new role—and for that, I am nothing but proud of myself.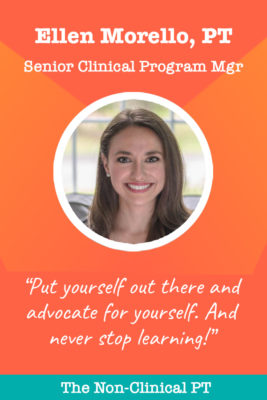 What's a typical day or week in the life like for you? What types of tasks and responsibilities fill your time?
I spend a lot of time in meetings, whether I am there to listen and gather information, or I am actively participating in them. It's my job to always be two steps ahead, so a lot of planning is involved.
I communicate with the team cross-functionally each day. I also receive and field questions from out clinical staff; it's my job to have an answer, or to find it if it doesn't exist yet. I am in charge of collecting and delivering feedback about our product or operations to the rest of our internal Physera team.
Last, but not least, I treat patients and manage their care via telePT.
What are some of the challenges of your role? What are the rewards?
I assist in the management of a nationwide remotely distributed workforce. Communication is often asynchronous, and I have to be diligent about communicating changes.
It is a startup environment, so change happens fast, and it is my job to understand these changes and ensure that all of our clinical staff understands these changes.
This might sound like a challenge, but I love every second of it. I love that we have an agile product that is improving and adapting. I love being a part of a forward-thinking company that is passionate about high quality-PT intervention.
How do you think working as a PT prepared you for this role? Which skills transferred?
I've been told by several colleagues that I have an operations brain ("ops brain").
I've learned that PTs often think very operationally. We think in terms of procedures, we think sequentially, and we think ahead. We also know how to juggle a lot and prioritize where to give our attention. This translates well to operational roles.
Roughly speaking, how are the hours and pay compared to patient care?
Physera treats all of their employees and clinicians very well when it comes to compensation and flexibility. I feel lucky to be a part of a company that values clinician time and contributions.
What type of person do you think would do well in your role?
The three must-have traits are:
Detail oriented
Independently motivated
Forward-thinking
Do you work remotely or on-site?
This is a 100% remote physical therapy job with an occasional visit to Physera headquarters.
Did you read any books, take any courses, or do anything special overall to get you where you are today?
I read a lot of books and listen to a lot of podcasts that are industry specific. It's good to be aware of where your strengths and weaknesses are so you can supplement areas of weakness with additional training.
I listen to:
I'm currently reading a book called Thinking Fast and Slow.
What is next for you? What do you want to do with your career long-term?
I hope to continually challenge myself in leadership roles. I enjoy working cross-functionally within the business and managing people, so I hope to continue to learn and progress in these areas.
What would you recommend to someone who is considering going into a role like yours? Do you have any special words of wisdom for the readers?
I'm going to sound like Nike here but if you are looking to make a change, just do it.
Commit to what you want and get courageous and innovative about seeking roles that you want. Network like crazy and put yourself out there.
What would you like to change most in your profession, and why? How would you propose doing so?
The fee-for-service model in PT is not a great one. Incentives should be aligned with outcomes—end of story.
A movement toward value-based care will elevate our profession and force us to implement evidence-based treatments in order to ensure meaningful outcomes for our patients.
If you could teach anything to today's graduate students in your profession, what would it be?
What I loved most about my DPT curriculum at New York Medical College was the problem learning model. This model taught me valuable communication skills and how to find answers to questions independently by searching through evidence.
This model has made me deeply committed to evidence-based practice, helped me become a better communicator, and enhanced my ability to problem solve. In this era where information comes readily available through a Google search, these soft skills have been paramount to my success.
So, what I would teach DPT students is how to ask the right questions and solve problems, because this is a skill-set that is easily transferable.
Do you have any special advice for rehab professionals who want to follow in your footsteps?
I would recommend the following:
Ask questions
Get mentors
Never stop learning
Put yourself out there and advocate for yourself
---
Thanks for your insight, Ellen!