Carly Cooper is a PT and Non-Clinical 101 graduate who works as Clinical Operations Team Lead at Sword Health. Learn how she discovered what she wanted from her career, landed her job, and moved up in her new company!
---
This post may contain affiliate links or codes. This won't increase your cost, but it helps keep TNCPT alive, and free of annoying ads! Thank you for your support. 🙂
What is your full name, title, and company name for your current, primary role?
Carly Cooper, PT, DPT
Clinical Operations Team Lead at Sword Health

Please refrain from contacting our spotlight participants on social media. There are thousands of readers just like you out there. 🙂 Please ask your questions in the comments on this blog post.
If you're a Non-Clinical 101 student, you can network with many of our spotlight participants in the alumni groups!
Where are you located?
Durham, NC
Where did you go to PT school, and what year did you graduate?
Duke University, 2018
What did you do when you first finished school, and for how long?
My first job out of school was a hybrid aquatic and traditional Ortho Outpost position. I was there for four months before transitioning to a clinic closer to home with a better company culture.
My next job was part of an integrative team as the sole PT (amongst MDs, NPs, RDN, LCSW, DACMs, and LMBTs), treating mostly MSK dysfunction. I was there for 2 years.
What did you enjoy about your early roles? What didn't you enjoy?
Aquatic: I loved being able to be in the water and offer a different option for pain management. The varied settings and patient populations helped keep it interesting!
Integrative: Collaborating with other disciplines helped the patient have quality care (providers that actually talked to one another), helped me learn from other providers, and helped me promote my passion and the profession of PT. It was also very fun working in the same community I lived in and networking in the community.
When and why did you decide to do something non-clinical?
I was (and to some extent still am) fed up with the insurance game.
I couldn't treat patients the way I wanted to and was still being held to productivity standards that felt impossible to meet without serious burnout. Then when the pandemic started, I had fewer resources and still the same requirements.

I really burned out before realizing I needed something different.
I learned from the Non-Clinical 101 course and a coaching call with Meredith that I wasn't actually ready to completely stop patient care, but was ready for a new challenge.
I interviewed with a few telehealth PT companies, but found that Sword was the best fit for me. I joined in April 2021.
What are you doing these days?
I am working in the digital health space as Clinical Operations Team Lead with Sword Health.
Can you tell us a bit about the Sword Health program?
Our patients use wearable technology, supplemented with access and monitoring by physical therapists, to aid in their rehabilitation from the comfort of their own space. We develop the exercise programs based on initial evaluation video calls and adjust based on reassessments and asynchronous messaging. Sword's wearable sensors interface with a tablet, which instructs patients how to do each exercise in their program and gives feedback based on their movement detected. All care is monitored by DPTs and is mostly asynchronous through the patient portal on the app.
So, for the direct patient care part of my role, I'm still evaluating/treating/motivating members to complete exercises. But instead of watching them perform each exercise, I'm evaluating data and the patient receives exercise feedback from the tablet based on the sensors.
It allows me to treat patients according to my schedule and patients to exercise (and be accountable) on their own schedules.
It is both exciting and challenging to engage with patients virtually. The beauty of working with Sword is that we are pioneering a way to capture patients who typically wouldn't go to a traditional PT clinic.
For the larger part of my role, I manage a team of 11 physical therapists. I strive to guide them in best practices in the digital health world and help give wheels to their great ideas. I'm lucky to have a great team, both in my small team and the entire Clinical Operations team.
Are you still treating patients? What percentage of your time is spent clinically vs. non-clinically?
Yes, about 25% clinical care and 75% administrative.
How long have you been a Clinical Operations Lead at Sword Health?
I've been the team lead since October, 2022. Prior to that, I was a physical therapist on Sword's Clinical Operations team (the equivalent of a staff PT).
How did you find your job? Did you apply or find it through a connection?
The Non-Clinical PT! Leverage your Non-Clinical 101 network!
What are some of the things you did to stand out, take initiative, and advance into the Clinical Operations Lead role at Sword Health?
Honestly, I did what I always do at a job, even before I became a PT: I worked hard, asked questions, and treated people like I would want to be treated.
With the Sword culture and natural growing state of tech, opportunities were/are frequent. Thankfully, I was asked if I wanted to step into this role based on my merits and time with the company. I was grateful for the chance to continue to grow my project management skills and train other PTs.
I saw a need and offered to be the one who filled that need.
How have people reacted to you leaving patient care?
Skeptical at first (how can you treat patients without seeing them?), but when I describe my role, combined with my enthusiasm, I am usually met with more acceptance and interest.
What's a typical day or week in the life like for you? What types of tasks and responsibilities fill your time?
Typically, I start my day meeting the needs of my patients first (chatting and reviewing their exercise sessions), before moving on to my team and project management priorities. That usually entails more data analysis, communicating with my team (sharing process/products updates as I learn about them), and collaborating with the other Clinical Operations Team Leads on new projects.
What are some of the rewards of your role? What are the biggest challenges?
I love that I can still help people reduce/resolve pain. I'm enjoying learning new aspects of digital health and tech. I'm grateful I have an outlet to be creative.
I do miss interacting with patients and colleagues in person more regularly, but that's a small price to pay for all the benefits.
Did you read any books, take any courses, or do anything special overall to get you where you are today?
Not much outside of Non-Clinical 101 other than a few MedBridge courses on telehealth.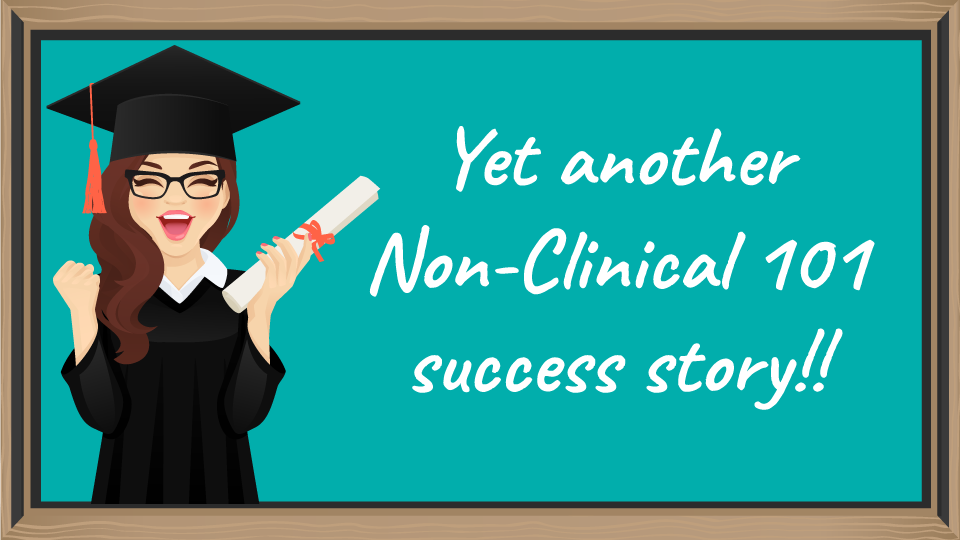 How did your clinical background prepare you for this role? Which skills transferred?
All of them!
What type of person do you think would do well in your role?
To be successful in virtual PT, a provider must be detail-oriented, self motivated, an excellent communicator, and not afraid to ask questions/fail.
The beauty and harsh reality of the tech world is that when your product gets to a user, you only find out then if you were successful. Having the self confidence and humility to recognize and learn from failure without becoming discouraged is key.
Do you work remotely or onsite?
100% remote permanently!
Does your organization hire PT, OT, or SLP professionals into non-clinical roles? If so, what type of roles?
Yes! Sword has different roles throughout the company that lend well to allied health professionals—from research to user experience (UX), to sales, to customer success to product development—this is a company that wants health professionals and the skills they bring.
What is a typical career path for someone in your role?
The options are prolific!
What is next for you? What are your high-level career aspirations?
At the moment I'm content working in my role to create something new and improving access to PT, but those are common themes. I will continue to follow those themes and passions wherever I can, but they happen to align with Sword's growth too.
---
Carly got clear on her goals AND found her non-clinical role through the Non-Clinical 101 network…you can do the same!