This week, we're spotlighting a PT who took Non-Clinical 101 and became a research PT!
---
This post may contain affiliate links or codes. This won't increase your cost, but it helps keep TNCPT alive, and free of annoying ads! Thank you for your support. 🙂
What is your full name and title at your current job? Where are you located?
Cristina Roy PT, DPT, NCS
I work as a research PT (physical therapist) at The Narrows Institute For Biomedical Research and Education, which is a non-profit research corporation for the Department of Veterans Affairs.

Where are you located?
I live in New York, NY
Where did you go to PT school, and what year did you graduate?
I graduated from Long Island University's Brooklyn Campus with my DPT in 2015.
What did you do when you first finished school?
Throughout PT school, I was always more drawn to the neuroscience courses.
My first job was at an outpatient neurological clinic for Weill Cornell Medical College. I worked there for just over a year and saw a broad range of patients including those with multiple sclerosis (MS), Parkinson's disease, chronic stroke, ALS and Guillain-Barre.
It was a good first job, but I was one of only two therapists at the clinic, and I wanted more interprofessional interaction.
I moved on to acute care next and worked at New York Presbyterian (NYP) Brooklyn Methodist Hospital for 4 years. Most of my time at NYP was in the neurology/neurosurgery unit, treating individuals recovering from acute stroke, traumatic brain injuries (TBIs), brain tumor resections, and more.
Working in acute care was a better fit for me than my early outpatient days—but it was still not a perfect fit.
When and why did you pursue a non-clinical role?
I think I knew right off the bat that a typical clinical career wasn't going to be for me.
During both of my past jobs, I found myself googling things like "what else can I do with a PT degree."
I found patient care could be draining at times, and I longed for quiet time in my day where I had a task that I could sit down and complete independently.
What did you do next?
While I was at NYP, I explored the world of research a little bit. I often attended Grand Rounds presentations within the Neuro unit, where case studies or new research findings were presented to a small team of MDs, PTs, OTs, and RNs.
I met someone who worked in the research department there and relayed my interest in becoming involved. As a treating clinician, I was able to assist in patient recruitment, which meant providing study pamphlets to patients I came across who may be eligible.
It was a very minimal and simple role, but it was a start.
What are you doing these days?
Currently I work about 30 hours a week in rehabilitation research.
At the Department of Veteran Affairs, I work with a team conducting research for individuals with lower limb amputation, specifically regarding prosthetic and orthotic devices.
Do you still treat patients?
I treat about 5-6 private home care patients per week.
The freedom and flexibility of adding home care to my work has given me time to expand into health content writing, and I have recently started my own blog called My Physical Therapist Says (myPTsays.com).
This is a platform where I write and share reader-friendly content on physical health and related topics. If broken down by percentage, I would estimate an average week for me is 60% non-clinical work and 40% direct patient care/clinical work.
How long have you been working as a research PT?
I have been working as a research PT since September, 2020.
Did you get any special certifications or training along the way to help become a research PT?
I received certification as a Neurological Clinical Specialist (NCS) back in 2019 (while I was at NYP).
I do believe the knowledge from this helped me land the job, as I knew a good amount about prosthetic and orthotic prescription from studying that content recently.
I also achieved certification as an Adaptive Recreation and Sports Specialist this year.
Leading up to my start date working officially as a research PT, I took several CEU courses offered by MedBridge on limb amputation, prosthetics, orthotics, biomechanical gait analysis, and research.
I also purchased Non-Clinical 101 in 2020, after years of hoping this type of job would fall into my lap.
How did you find your current role?
I found my current job on indeed using "research" as the keyword search term.
Did you do anything special to your resume for the research PT role?
Yes, I adapted my resume to highlight the research aspect of my past roles. I emphasized my self-driven role in patient recruitment and highlighted my use of data analysis and literature review in past in-service presentations. Also, based on the job description, I knew this role involved lower limb amputation and prosthetics, so I described how my NCS certification provided me with advanced knowledge in AFOs, bracing, and other aspects of prosthetics and orthotics.
What was the interview like for the research PT role?
I interviewed virtually for this role, due to COVID.
The interview was informative about the research projects currently underway, and the role/expectations for the incoming PT. There were some clinical questions asked regarding prosthetics and orthotics, specifically alignment and biomechanics. Luckily, I had my recent NCS material fresh in my mind, so I had an advantage with that.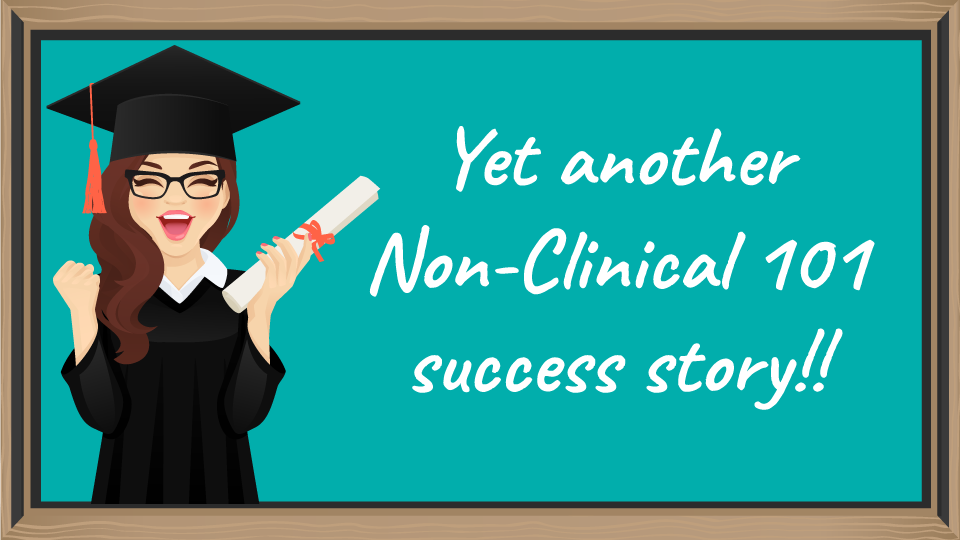 How have people reacted to you leaving patient care?
I believe I left acute care at a unique point in time.
In NYC, we were hit very hard with COVID in the beginning of 2020, and by the time I left my clinical role in September 2020, I believe many people in the hospital were burned out.
I think in a different time, it would have been more of a surprise that I was pursuing non-clinical PT jobs, but during COVID, most people reacted with a simple "good for you" type of mentality.
What's a typical day or week in the life like for you? What types of tasks and responsibilities fill your time?
Each day varies, based on which study we are working on and the stage of that study.
The busiest days tend to be data collection days, when we have a research participant coming in for testing. On these days, I work closely with the research engineers and certified prosthetists on my team.
During data collection, participants are fit with various sockets and prosthetic feet as they undergo biomechanical gait analysis with 3D motion tracking. They also complete several outcome measures and questionnaires.
As the PT, my role is to perform assessments such as the 6MWT, AmpPro, TUG, 4-square-step-test, etc. I also assist in attaching motion capture markers to assigned joint spaces and anatomical landmarks on the participants for gait analysis.
During the biomechanical analysis portion where the patient's gait is being captured, I assist in identifying force plate strikes during the stance phase of their step.
If no participants are scheduled for testing on my workday, I spend that time with other tasks, such as:
Grant writing
Data analysis
Additional research and literature review
Conference submissions
Seeking out additional funding opportunities
What are some of the challenges of your role? What are the rewards?
I find this role to be very rewarding. I enjoy the balance between independent work time and patient interaction.
When I am in the lab with my team, I enjoy working with the diverse group:
Engineers
Research scientists
Research coordinators
Certified prosthetists/orthotists
This is the broad interprofessional setting I was hoping to find.
One challenge in the world of research is funding. The studies I am working on have been years in the making and have been in the data collection phase for some time already.
So, when I came on, much of my job was ready and waiting for me. However, as time goes on, and these studies close there is definite pressure to achieve more funding and keep the momentum going with additional grants. This is a new challenge for me, but it is one the whole team is facing together so at least I am not alone in learning how to navigate it.
How do you think working as a PT prepared you for a research role? Which skills transferred?
Years of work as a PT clinician prepared me well for this role. I am currently the only PT on this team, so it might have been intimidating if I did not have enough experience or did not feel confident in my skills.
The role requires a lot of self-drive and resourcefulness, so I believe it picks up on what I learned as a clinician and pushes me further towards applying those skills in a new way.
Roughly speaking, how are the hours and salary of a research PT role, compared to patient care?
My research PT salary is comparable to that of my patient care roles.
The hours are similar as well—but, unlike many clinical jobs, I have no weekend or holiday requirements! This has been a big lifestyle improvement since toward the end of my time working in acute care, weekend and holiday coverage requirements were becoming increasingly burdensome.
Additionally, with my homecare earnings taken into consideration, I am out-earning my past jobs in pay per hour.
What type of person do you think would do well in your role?
To succeed in this role, you will need to have good attention to detail and literary skills.
Some of the less glamorous aspects are writing grant applications which can be upwards of 50+ pages. This work takes diligence, patience, and an eye for grammar and formatting.
Much of the background work is independent and self-driven but requires everyone on the team to come together with their respective work to build a final product together. There is a good mix to fit both those introspective extroverts and those extroverted introverts.
Do you work remotely or on-site?
Over the past year, most of my role has been work from home.
Our "on-site" is a gait analysis lab located within a hospital, so there have been strict COVID rules regarding number of employees allowed in. Over the past few months however, those have been lifting and we are able to go in again for data collection visits.
Does your organization hire PT, OT, or SLP professionals into non-clinical roles? If so, what type of roles?
The VA in general, I believe, hires PTs, PTAs, and OTs for research.
Since my specific area of research is focused mostly on lower extremities and gait, we have just the one PT. There is one PTA I know of, and several OTs who work at a different site on other projects.
I am not sure if there are any SLPs due to the nature of our current research, but I am sure a research SLP role exists somewhere.
Did you read any books, take any courses, or do anything special overall to get you where you are today?
As I mentioned above, I took some MedBridge CEU courses to freshen up my clinical skills. I also took Non-Clinical 101 to help me prepare my resume and cover letter and interview confidently for the role.
What is a typical career path for someone in your role? What do you want to do with your career long-term?
I hope to achieve growth in this field by progressing my role in future research studies.
For example, I am currently listed as "supporting personnel" on many of the studies I was brought onto. As supporting personnel, I did not have much say in the study design or procedures as they were made before I started. It is almost like I am a contractor, brought in for a specific role on the study.
As I grow in this field and contribute more to study designs, I can become a co-investigator. As a co-investigator, I will assist in designing the study and seeking out funding, and I will be partially responsible for sharing the results.
A main goal for me is to become a principal investigator (PI) for a project, which means I'd essentially be responsible for leading and maintaining the study's progress over the course of funding. I hope to remain as a research PT for the foreseeable future and grow my experience in this field this way.
What would you recommend to someone who is considering going into a role like yours? Do you have any special words of wisdom for the readers?
I recommend other PTs (and other rehab professionals) who are interested in this type of role to go for it!
This is not a path which is advertised much, or highly talked up in the PT world, but it is completely within our scope. It is a unique way to go non-clinical, while literally staying on top of all the up-and-coming clinical techniques and technologies. (Because you're the one proving they are up and coming!)
I would also add that you shouldn't be put off from research if you were bored to tears during research classes in school. In the end, it is much more hands-on and interesting. I promise you: I don't remember what the difference is between a Mann-Whitney and a Kruskal-Wallis is off the top of my head either…that's why we work with statisticians!
What would you like to change most in your profession, and why? How would you propose doing so?
I think the pressure in this profession for productivity is becoming its ultimate downfall.
We are often judged for how MUCH we do, not for HOW we do it.
There is so much that needs to be done to change this way of thinking, to stop prioritizing quantity over quality in a healing profession. An overhaul of the entire medical insurance and reimbursement system would be a great place to start though!
If you could give yourself one piece of career advice you wish you had during your PT school program, what would it be?
I wish I would have had some type of medicinal business class in PT school to discuss non-clinical opportunities. A course that teaches students that they absolutely are needed in the facilitation of healthcare to patients, without necessarily directly being the ones to administer clinical care.
I think a lot of emphasis was placed on getting out of school and landing that "dream job" in a major hospital or clinic. However, those are not the dream jobs for everyone—and not knowing what else was out there made for some very discouraging times.
I would have told myself to do the legwork earlier, broadening my horizons to find other opportunities.
There is a common trend I see in those seeking non-clinical work that maybe they need more clinical experience first, or maybe it's too soon to transition out because you just spent so much time and money to get in. Instead, think of it differently: you are using your degree, you are doing something no other person is better suited for, and you are still delivering healthcare to people.
There is no need to grin and bear it for years just to grant yourself permission to find what you really wanted all along.
If you could teach anything to today's graduate students in your profession, what would it be?
That their skills are WAY broader and more adaptable than they think. Since I began my search for non-clinical roles, I have learned about so many people who have either found roles perfect for them—or even created those roles for themselves.
I think we are told we fit into this healthcare provider bubble, when we can actually be researchers, educators, clinicians, we can work in tech, marketing, sales, the list really goes on and on.
Do you have any special advice for others who want to follow in your footsteps?
Do some research on your own, and explore what rehabilitation research is like: what we're studying, what we're finding, what's to come.
If you read the methods portion of any trial, you've got insight into the day-to-day tasks of the research team right there.
And, if you read on into the conclusion/limitations of the studies, there is usually a reference to additional research that needs to be done. That's free insight into the future of the field.
Take some time and practice writing, whether it be starting a therapy or rehab blog, a journal, or summarizing and re-writing other articles. If you can write well enough to convince someone you are worthy of their money, you are literally funding the progress of your own career.
---
Curious how your own skills can translate into the non-clinical world? Feeling overwhelmed by all the options? Explore your options in an organized and strategic way with Non-Clinical 101: the comprehensive, fun, and inspiring course everyone is talking about! Join Cristina and so many others who have taken NC101 and landed non-clinical jobs they LOVE!