This week's non-clinical spotlight features another Non-Clinical 101 success story. Tambi Rondinone is a PT who now works as a Clinical Review Coordinator for naviHealth!
---
This post may contain affiliate links or codes. This won't increase your cost, but it helps keep TNCPT alive, and free of annoying ads! Thank you for your support. 🙂
What is your full name, title, and company name for your current, primary role?
Tambi Rondinone, PT, DPT – Clinical Review Coordinator for naviHealth

What additional roles do you currently have?
Once a year, I assist with the lab portion of the Management of the Aging Adult class as adjunct faculty in Baylor University's hybrid DPT program.
Where are you located?
Littleton, CO
Where did you go to PT/A school, and what year did you graduate?
I started my career with an associate's degree as a PTA. Later, I returned to school to get a BS degree in biology while working as a PTA.
I continued on for an MPT degree, graduating in 2001, followed by a transitional DPT degree in 2004.
What did you do when you first finished school, and for how long?
When I completed my PT training, I worked primarily in home care. I did this for 20 years until I found my non-clinical job.
In what setting(s) did you work, and what types of patients did you treat?
I worked in a SNF as a PTA and then in an outpatient setting. I did a little home care and really enjoyed that setting. That is what drove me to go back to school for my PT degrees.
What did you enjoy about your early roles? What didn't you enjoy?
I enjoyed a long career in patient care. Building relationships with patients and helping them to be the best that they can be was rewarding for me.
After a while, I started to think there was more that I could do with my experience than direct patient care.
When and why did you decide to do something non-clinical?
The stress of being asked to do more with less was beginning to affect me. Staffing shortages in the home care setting meant I was having to address needs that a nurse, OT, social worker, or home health aide would normally be doing.
I was not seeing any pay raises or added compensation, and I had a PRN position so there were no benefits. I filled a role that looked like a full-time position, but without the job security or benefits.
What are you doing these days?
I am a Clinical Review Coordinator for naviHealth and I love it! I've been in the role for about 8 months.
Did you get any special certifications or training along the way to help you get into your current role?
I am a board-certified Clinical Specialist in Geriatric Physical Therapy (GCS). I think that helped since this role deals primarily with a geriatric population.
A few years ago, I purchased the Utilization Review crash course offered by The Non-Clinical PT. I was impressed with the quality of information that was in there. This marked the start of my learning about non-clinical roles. I then purchased Non-Clinical 101 which rounded out my understanding of what is involved in finding what you love to do, how to prepare to do it, and landing a role that you desire.
How did you find your job? Did you apply or find it through a connection?
I applied for my role…17 times!
Over nearly 2 years, I would apply for every clinical review coordinator (then known as pre-service coordinator) position with naviHealth that I saw advertised on their website, as well as through Indeed.
Did you do anything special to your resume and cover letter to land the job?
Absolutely! The way my original resume read, there was no indication that I wanted to do anything but work in direct patient care. It needed a complete re-do to emphasize the skills that are transferrable from patient care to a non-clinical role.
What was the interview like for the role?
I was extremely fortunate that my interview was with a senior manager with whom I felt very comfortable. We had a nice discussion about why I was interested in leaving patient care, how I felt my skills would transfer to a new role, and what the job was like that I was applying for. I was offered the position during the interview.
How have people reacted to you leaving patient care?
Given how many years I worked seeing patients, I don't think anyone was surprised that I needed a change!
What's a typical day or week in the life like for you? What types of tasks and responsibilities fill your time?
My day is a lot more structured now than it was when I was a home PT. I work 8 to 5 local time. I have an hour for lunch and 2 breaks each day. It's a short commute to my home office, so that is a time-saver!
My day begins with signing into the many applications that I use to do my job and checking messages, e-mails, etc.
Then, I start pulling cases from a queue for review to determine if they meet CMS criteria for transition from an acute or home care setting to a skilled nursing facility.
I make phone calls to case managers and others to gather necessary information if it is missing. If criteria is met, I can approve it. If it is not met, I write it up to send to a medical director for review.
What are some of the rewards of your role? What are the biggest challenges?
The challenging part can be explaining to providers why a transition can not be authorized. They don't always agree!
How did your clinical background prepare you for this role? Which skills transferred?
My clinical experience gives me the insight to understand what is going on with a patient who has been hospitalized, what they need to get better and improve their functional abilities, and how that is going to happen.
As I read the clinical information provided, a picture emerges based on everything I know about patient care.
Roughly speaking, how are the hours and pay compared to patient care?
I feel like I work about the same number of hours, but those hours happen during my work shift, instead of at all hours of the day or night as they did when I worked in home care.
As a former PRN therapist, it was a huge bump up in pay, because I used to have gaps in my day when I did not get paid until I saw the next patient. The benefits I have now make the compensation even greater.
What type of person do you think would do well in your role?
Someone who sees the big picture, and appreciates details would do well in this role. You have to be confident in your clinical judgment, and you must be comfortable with not having face-to-face interactions all day long. You have to be willing to accept that some providers will be frustrated when they don't get what they are looking for.
That being said, I feel more connected to my co-workers now than I did in my role as a home PT!
Do you work remotely or onsite?
I am 100% remote!
Did you read any books, take any courses, or do anything special overall to get you where you are today?
I can't recommend your course, Non-Clinical 101, enough! It is what solidified my understanding of what roles are possible with a therapy background.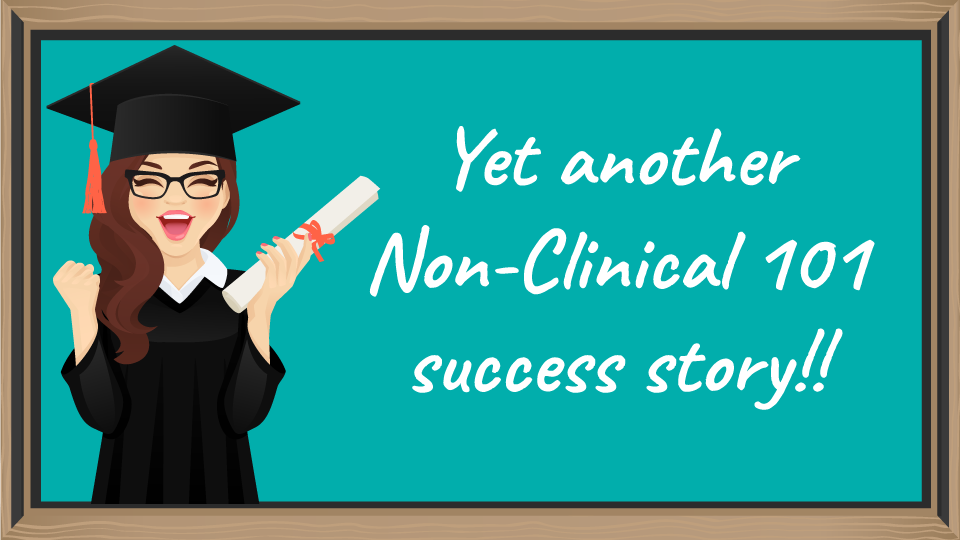 What is next for you? What are your high-level career aspirations?
I want to continue to do this job to the best of my ability. There is so much to learn.
I don't aspire to be in a managerial role, but that is definitely possible if you want that path.
There are other areas of the business that could be explored such as Appeals & Denials, or the Home Health division that is currently growing very quickly.
What would you recommend to someone who is interested in becoming a clinical review coordinator?
I think it would be good to have at least three to five years of clinical experience before seeking a role like this. You need a depth of experience to understand the implications of what is going on with a patient, and what could happen if certain things are not properly addressed. A lot of that knowledge just comes with experience.
What would you like to change most in your profession, and why? How would you propose doing so?
I would like to see the focus go back to delivering the best possible patient care experience vs. having the focus on productivity.
It used to be like that long ago, but sadly, declining reimbursement has had such a negative effect on what we do. I wish I knew how to change that!
What would you teach to today's graduate students, if you had the opportunity?
I would say to always focus on being the best therapist that you can be. It not only serves your patients, but it serves you as well.
When you have developed excellent skills and a depth of knowledge, it opens doors for you all the time. That is how I have had many of the opportunities that I have had.
Becoming a board-certified clinician shows a dedication to clinical excellence. I have had several teaching jobs because of that qualification, without having a terminal degree.
Do you have any special advice for others who want to follow in your footsteps?
Take time to really consider why you want to leave patient care. Don't think of it as an escape from the stress of your daily job, because every job has a certain amount of stress that comes with it.
Be sure that it aligns with your personal and professional goals. When you find that fit, you will be happy!