Today's non-clinical spotlight focuses on Merci Greenaway, PT, who went from physiotherapist to Physiotherapist in Residence at EuMotus Motion Capture.
---
This post may contain affiliate links or codes. This won't increase your cost, but it helps keep TNCPT alive, and free of annoying ads! Thank you for your support. 🙂
What is your name and full title?
Merci Greenaway, PT
Where did you go to PT school, and when did you graduate?
I graduated with honours from The University of Notre Dame Australia in 2012.
Where did you work when you first graduated?
The year after I graduated, I worked as a Visiting Scholar at Johns Hopkins University, Bloomberg School of Public Health, where I performed cardiovascular and burn injury research.
What did you like about your role, and what did you dislike?
I loved being in the high-level PT research world, getting to work with and learning from people who are at the top of their field.
I liked knowing that I was contributing not only to the people I could put my hands on (through clinical work), but the many people whose lives are impacted by medical research.
I'm not a hard-core extravert, but I do enjoy working with people, so the many long hours in the lab with mice and test tubes were a challenge.
I think I talked the ear off a few colleagues while I was there; sorry, Fairweather Lab!
What was your next job? What were the pros/cons of that role?
My next role was as a private practice physiotherapist at a large multidisciplinary musculoskeletal private practice in Perth, Australia. It was a great team, and my clinical mentor there happened to be an ace at treating vertigo and dizziness.
I grew so much in that role—in both confidence and skill, and I'm really grateful for my experience at that clinic (shout out to Central City Health Professionals).
I treated a variety of patients there, using dry needling, manual therapy, and Clinical Pilates.
I actually can't fault that job. It was a great combination of interesting complex cases, a good company culture, and motivated patients. I think it was a bit of a unicorn clinic really!
Did you make a conscious decision to leave patient care, or did you happen upon your non-clinical role?
Last year, my husband was offered a job in the big smoke—New York City! We saw it as a great opportunity to work and travel before having kids.
Due to U.S. PT registration woes, I actually thought that my time in NY would be a bit of a career hiatus, so my first job in NYC was working as an Upper East Side nanny.
There are some stories there, but that's for another blog! Ha!
How did you first hear of the role you have now at EuMotus?
The concept of non-clinical and non-research PT roles hadn't occurred to me, so when a friend recommended that I check out EuMotus for job opportunities, I was stoked!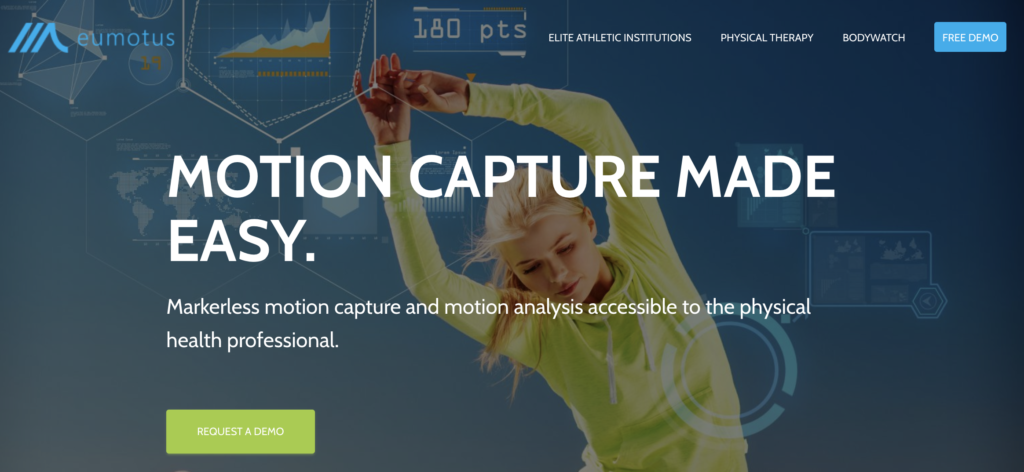 What is your official title in this role?
My official title is Physiotherapist in Residence.
Did you apply for the role directly, or did you hear about it through a connection?
A friend connected me to one of the founders via email. We caught up for coffee and the rest is history!
Did you have to do anything special to your resume or cover letter to stand out or explain your reasoning for wanting the role?
I decided to send a cover letter that explained the top five reasons that I would be a great asset to this company.
Here's what I included:
I was published in peer reviewed journals on the topic of outcome measure validity and reliability
I won the award for biomechanics in rehabilitation at university
A few other strengths that I could bring to the table as a PT working at a company whose major client is PTs
What is your current role as physical therapist in residence like? What does it involve?
My role involves advising the company on our 3D marker-less motion capture product (BodyWatch).
I also demonstrate the product and liaise with our PT clients. Since it's a startup, I wear a few hats, so I also write a thought leadership blog and run their social media.
What are the best parts of your role as PT in residence? What are the challenges?
I am absolutely loving showing PTs what our technology can do. EuMotus' BodyWatch is the first-ever completely portable and markerless movement analytics system that instantly evaluates functional body motion in 3D.
The software is cutting edge, but usable and I love seeing PTs sharing my excitement about this technology.
It's fun being able to use my expertise to promote a product that I truly believe will elevate the profession and change the face of PT globally.
Biggest challenge—SEO (Search Engine Optimization), hands down. Goodness gracious! What does it all mean? Thankfully, my colleagues are kind geniuses, and have been very patient with me as I try to figure out the internet.
What is a day in the life like for you at your role at EuMotus?
Again, being a startup, variety is the spice of my life. Most days are a combination of the following:
Fielding emails
Chatting with other PTs
Demonstrating the product
Writing for the blog
Running social media.
I also work closely and advise with our technical team to ensure all updates are making sense from a PT perspective.
Did you need any special certifications or education to land this particular role?
Just my physiotherapy degree, and a winning attitude!
Do you have any books or podcasts you recommend for career success?
Yes! The Art of Charm podcast contains lots of gems that have helped me in my career.
What types of skillsets or personality traits would make someone successful in a role like yours?
It's important to be outgoing and confident in this role.
Those are the only real prerequisites; the technical aspects can be learned.
I am constantly meeting new people and communicating. This includes business owners and university professors, often at high level institutions.
Do you have any advice for someone who would like to land a similar role?
Learn to articulate how the unique skills you have acquired through your PT training can translate into the business and technology world.
Yes, as PTs we learn manual techniques, but we also learn complex and creative problem solving, communication, empathy, and much more!
Your working understanding of human biomechanics is a rare and valuable skill, and there are so many companies that are looking for someone just like you.
Learn more about tweaking your resume for a non-clinical role!
Anything else you'd like to add?
Working at EuMotus Motion Capture has opened my eyes to the possibilities for Non-Clinical PTs. It's an exciting and promising career path.
I never knew that a non-clinical role could so closely aligned with my expertise, while fulfilling my desire to be a part of something truly great!
---
Thanks for your insight, Merci!