Today's spotlight focuses on Jasmine Taylor, PT, DPT, who went from treating physical therapist to Specialty Program Manager at Encompass Health.
---
This post may contain affiliate links or codes. This won't increase your cost, but it helps keep TNCPT alive, and free of annoying ads! Thank you for your support. 🙂
What is your full name and title at your current job?
Jasmine Taylor, PT, DPT
Specialty Program Manager (SPM) at Encompass Health

Where did you go to PT school, and what year did you graduate?
I attended the UCSF/SFSU joint program. I got my MSPT in 2005, and my DPT in 2006.
What did you do when you first finished school?
I spent four years working in acute rehab as a lead PT. Then, I moved to hospital-based outpatient PT, where I worked for two years treating a mix of adult ortho and neuro cases. I then worked in hospital-based outpatient where I saw some peds, as well as adults, for two years.
I did travel physical therapy for a year, home health for about a year and a half, and I managed a private outpatient clinic for a year. In short, I worked in a ton of settings!
When did you realize you wanted to do something non-clinical?
After about seven years of clinic work, I was feeling the symptoms of burnout. I also felt that it was challenging for me to be in a hospital/building for nine or 10 hours per day, working on a fixed schedule.
I reached out to my university's career center since they offer career counseling to their alumni. Unfortunately, they didn't have many career resources for me, and it was suggested I try working for another hospital or clinic.
I tried the travel jobs because I thought I needed a change of scenery, but during my first patient evaluation in a new city a light bulb went off. It wasn't the location; it was what I was doing—I really I needed to get out of the clinic.
What are you doing these days as a Speciality Program Manager?
The Specialty Program Manger role is a sales position with Encompass Home Health. I manage the post-op surgical programs.
This means obtaining protocols from our surgeons and shadowing them in the clinic to better understand their treatment preferences. I educate our clinicians with regards to the protocols from our referral sources, and I work with our sales team (usually non-clinical) to educate them about home health and how to sell our programs to the referral sources.
Our referral sources are orthopedists, DPMs, cardiovascular MDs, neurosurgeons, GIs, ENTs, urologists, and dermatologists. I want to know anyone who "cuts" and their preferences for post-op care.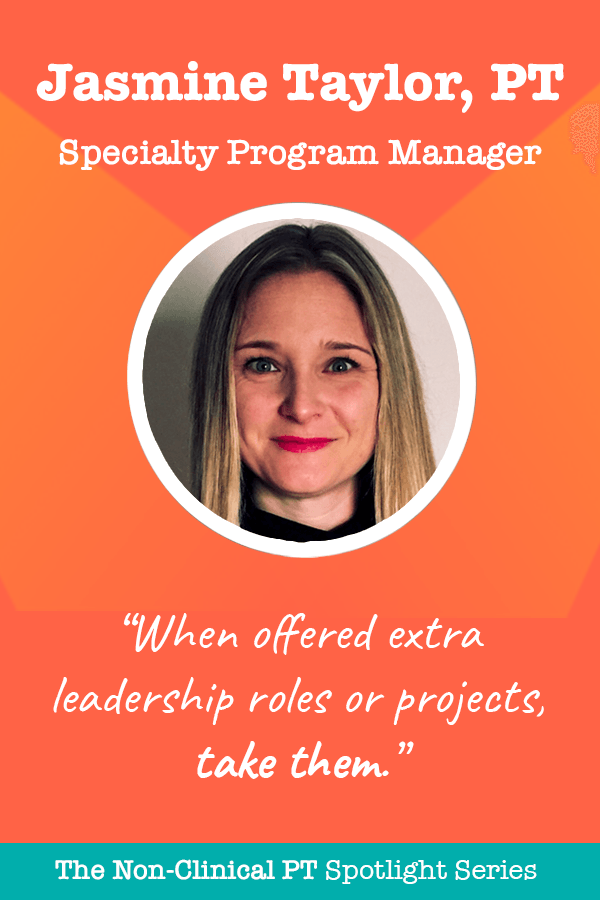 Are you still treating patients, or are you solely non-clinical?
I'm solely working as a non-clinical physical therapist!
How long have you been in your current role as a Specialty Program Manager?
Since August of 2018
How did you find your Specialty Program Manager job?
I had applied to Encompass in the past (for a different position) through their website, and never heard from them. With The Non-Clinical PT's Facebook page, I was able to reach out directly to a director that was looking for a SPM in her territory, and she put me in touch with my current director who happened to have an open position.
Did you do anything special to your resume and cover letter to land the job?
I emphasized my management roles or leadership roles when I was a clinician.
[Editor's Note: Check out Non-Clinical 101 to learn exactly how to rock your resume, cover letter, interview, and more!]
What was the interview like for the role?
It was on Zoom with my director and the VP, as they are located in other geographical areas. I had a few in-person interviews with the other sales managers that I would be working with. I also had a couple of phone calls with other SPMs in my region.
The interviews emphasized my management roles, management style, ability to work in a team, and motivation.
Did you get any special certifications or training along the way to help you get into your current role?
I've been reading more sales-oriented books:
How have people reacted to your leaving the clinic?
I have found that most of my colleagues are supportive of my decision to transition from the clinic. Most admire that I am trying something new and stretching my clinical skills.
What's a typical day or week in the life like for you?
Each week, I meet with home health referral sources (MDs, DOs, DPMs,) and their clinical staff to educate them on what home health is—and what Encompass Health can offer their patients.
I shadow our referral sources in their clinics or in surgery. I update the referral sources and their staff on how their patients are progressing in the home health.
What types of tasks and responsibilities fill your time?
I do a lot of training of area managers about health care and the role of health professionals in the home health setting. I also spend time educating referral sources about home health care and regulations. In addition, I keep track of our referrals to make sure the patients get admitted.
What are some of the challenges of your role?
Many of the referral sources and their support staff are unaware of, or misunderstand, the home health benefit.
Some referral sources don't care to be bothered with following patients after they perform procedures.
Painting the picture as to why it's important to follow patients through their health care journey to manage cost to our healthcare system can be challenging.
What are the rewards?
When a patient gets the care they need at the time that they need it, it's very satisfying.
How do you think working as a PT prepared you for this role?
Being a therapist develops many transferrable sales skills.
If you dig into what your patients need to be successful and have great therapy outcomes then you have many of the skills needed.
If you can convince patients to participate in their HEP or describe your value as a therapist to referral sources, patients, and upper management, then you've got sales skills!
Roughly speaking, how are the hours and pay compared to patient care?
I still work 40-50 hours a week. However, the hours can be more flexible. The pay is comparable to clinic work.
What type of person do you think would do well in your role?
Organized
Self-motivated
Self-starter
Do you work remotely or on-site?
Both. I have a home office and there are six offices/branches that I can also work in, depending on my physical location for the day.
Does your organization hire PT, OT, or SLP professionals into non-clinical roles?
Yes, and you can visit EncompassHealth.com. Take a look at the Clinical Transition Coordinator (CTC) roles, which are open to PTs. We also have the SPM role, and we have Area Manager (AM) roles for PT/As, OT/As, and SLPs.
What's next for you? What do you want to do with your career long-term?
Every six months or so, I ask myself those very questions. It's a great way of checking in myself and my current satisfaction with my career. In asking myself the above questions, I'm able to reflect and understand what I like in each position I have held.
I enjoy educating, managing, public health, and stretching out of my comfort zone. I'm interested in telehealth physical therapy and the use of technology to reach patients that are home bound or in rural areas all over the globe.
What would you recommend to someone who is considering going into a role like yours?
Network, maintain relationships with the medical community, use LinkedIn, always have a draft of your resume ready. You'll want a starting point that you can use to edit for a new position within a couple of hours.
What would you like to change most in your profession, and why?
I love being a PT; it's such a unique subset of skills to have in healthcare. I feel that burnout is a massive problem in our profession.
If you could teach anything to today's PT students, what would it be?
Multidisciplinary education (with MD, DO, DPM, DDS, RN, PharmD etc.) needs to start earlier in our education and careers. We really should make sure we take opportunities in school, and at the start of our careers, to show our worth.
Do you have any special advice for other rehab clinicians who want to follow in your footsteps?
It took more time than I wanted it to transition out of clinic work.
If moving out of the clinical role is something you are considering, when offered extra leadership roles or projects, take them.
They help to build your resume and non-clinical skill sets. During interviews, I was asked more about those situations than I was about managing a clinical case load. I
f you are worried about taking that step forward into non-clinical work, don't be. You can always return to clinical work—and I believe the step forward you did take, for whatever amount of time you did, will make you that much better of a clinician.
---
---