We hear from countless clinicians who love serving the senior population, but feel burned out by the grind of therapy. People say they wish they could provide for vulnerable seniors—minus the productivity pushes, excessive paperwork, and other hassles of clinical care.
One way to work with older folks—without treating them clinically—is to start a non-medical home care business.
We recently learned that there are some great franchise opportunities available when you are starting a caregiving business. One fantastic option is to start a Caring Senior Service home care franchise. Their franchise model lets you run your own business, but they provide you with the guidance, structure, support, and resources to sidestep the most challenging parts of starting a business from scratch.
We've covered franchise options in the past, such as Green Light Mobility in the home modifications space.
Now, we're sharing why we're so excited to partner with Caring Senior Service, as this model really is a great option for the right type of person!
Let's get started!
This post may contain affiliate links or codes. This won't increase your cost, but it helps keep TNCPT alive, and free of annoying ads! Thank you for your support. 🙂
What is Caring Senior Service?
Caring Senior Service is a non-clinical/non-medical homecare agency that has been operating for more than 30 years. Created in TX in 1991, it was founded by a homecare worker who recognized that many clients sought help with tasks of everyday living (running errands, preparing food, etc.) that weren't considered therapeutic in nature.
So, Caring Senior Service was established to fit this need, and the company has grown since then.
As of 2002, the company offers franchising opportunities to aspiring business owners who have a passion for helping seniors age in place.
You don't have to treat patients to run a Caring Senior Service franchise! In fact, you don't even need a clinical background to get started…but it certainly helps to have one.
This option is fantastic for PT/As, OT/As, SLP/As, and anyone else who feels the entrepreneurial bug, but doesn't want to start a clinic.
What are the Caring Senior Service locations?
At this point, there are roughly 50 Caring Senior Service franchise locations spanning 18 states in the United States (Including AZ, CA, CO, FL, GA, IL, KS, MS, NE, NJ, NC, OH, PA, TN, TX, UT, VA, and WI).
Given the increasing demand for in-home care from seniors who wish to age in place, there are tons of markets begging for non-clinical homecare services.
Is Caring Senior Service a legit company?
This is always a valid question. Sadly, the rehab world is swimming with "business opportunities" out there that turn out to be scams.
Before we partner with a company, we do our due diligence and research the company and its founder(s). We prefer working with established companies that have seen organic, steady growth over the years, rather than flash-in-the-pan companies that may or may not stand the test of time.
Caring Senior Service has been around for 30+ years and has a long-standing, established franchise model that has been in operation for decades. The organization also has a high rating on Glassdoor, based on over 60 anonymous reviews made by employees.
We were introduced to the company by Ian Klaes, a physical therapist we recently spotlit!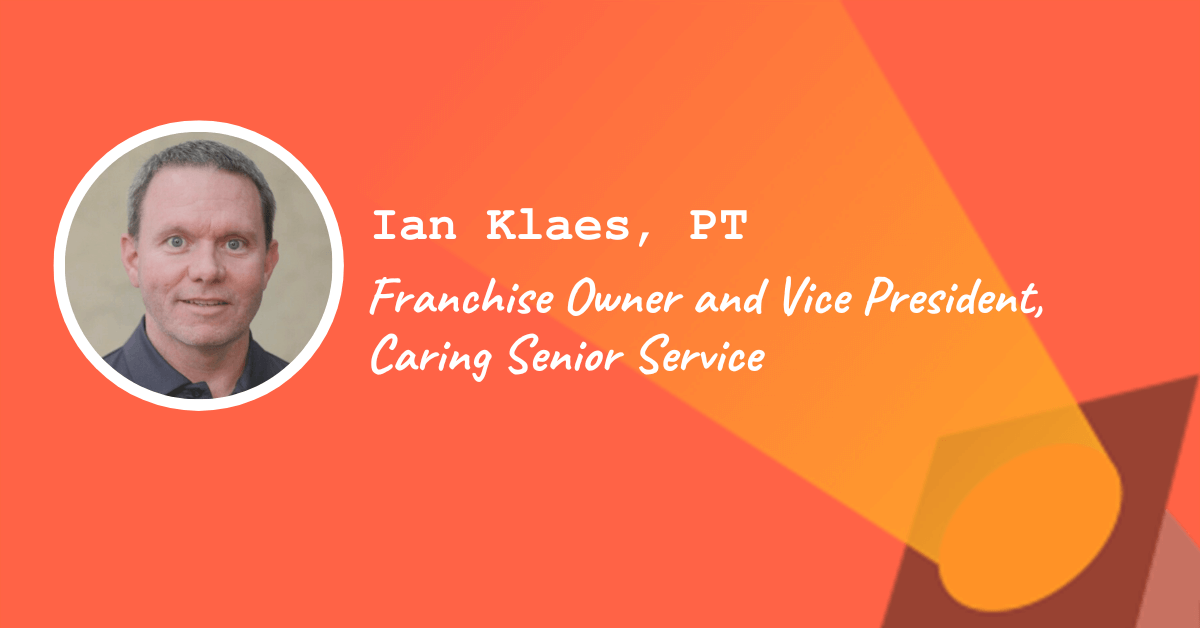 What is a franchise?
The simplest way to explain a franchise model is that you pay a fee to operate a business with the same branding, business model, etc. as the parent company. Here's a longer explanation!
You'll frequently see franchise models in the restaurant industry. Opening a franchise of an established business enables an entrepreneur to serve a community's needs by using an existing, proven business model.
Because you're working from a proven model, the startup costs might be higher than those of a traditional business. However, the risks are often lower because you're working from said proven model!
Why should one consider a Caring Senior Service franchise?
Franchises have their pros and cons.
We believe there are more pros than cons when it comes to starting a home care agency or home modification business, as both of these types of businesses rely extensively on referrals and word-of-mouth marketing.
Buying into a franchise model eliminates the worries of whether you'll get enough business because an established network is already in place.
A few reasons we like the Caring Senior Service franchise model include:
Top-notch training and support.
Some corporations will skimp on training and support once you've bought into the program. Caring Senior Service provides 100+ hours of training and support to help new franchisees learn the model. Corporate continues to offer support as you grow.

Technology.
You'll have access to a proprietary home care platform so you can easily manage your daily operations. In fact, Caring Senior Service is the only tablet-based home care franchise business in the US!

Tons of territories available.
While Caring Senior Service does already serve 18 states across the US, it's at that sweet spot where there are still TONS of open markets where you can enter your own territory and set up a successful business. At the time of publishing this article, there are 600+ available markets (including major metros), which have been vetted by the company to have a minimum of 20,000 seniors.

Established brand with name recognition.
Caring Senior Service has been around for more than 30 years, and its founder/CEO still owns and operates several units. He is aware of the changing marketplace dynamics and keeps up with trends to ensure the brand name remains trusted and clients receive great care.

Affordable investment.
Some franchise opportunities are prohibitively expensive. Caring Senior Service offers a reasonable investment level that won't break the bank for a new franchisee.

Growing need.
Aging in place is huge right now. And, with an aging boomer population hitting the point where they'll need to consider long-term care options, a home care business is a fabulous opportunity to meet this growing need.
Is starting a home care franchise right for you?
It's hard to say whether any decision is right for you, without knowing your specific circumstances.
However, if you love working with seniors, wish to build your own business, and want to work from an established model—without worrying about reinventing the wheel—you might really enjoy this work.
Speaking of work, a franchise is still a business…and it still takes a lot of work. Maybe not quite as much work as building a brand-new business from scratch, but you'll still need to grind to make things pay off.
The nice part is that the franchise model lets you sidestep uncertainties like how to brand yourself, how to market to local physicians, legal and licensing considerations, and other nebulous business questions that tend to block growth.
How do I inquire further about starting a Caring Senior Service Franchise?
You can get started HERE, and learn more about starting your own Caring Senior Service franchise!