Today's non-clinical spotlight focuses on Jeremy Hall, a physical therapist who now works as a clinical solutions consultant.
---
This post may contain affiliate links or codes. This won't increase your cost, but it helps keep TNCPT alive, and free of annoying ads! Thank you for your support. 🙂
What is your full name and title at your current job?
Jeremy Hall, PT, DPT, CSCS
Clinical Solutions Consultant at Force Therapeutics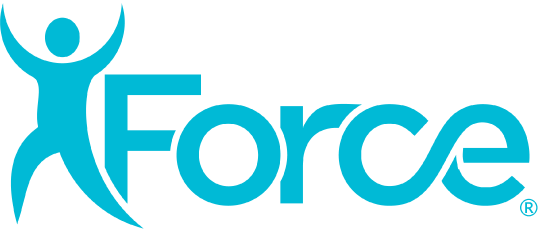 Where did you go to PT school, and what year did you graduate?
Nova Southeastern University, class of 2011
What did you do when you first finished school, and for how long?
Right out of school, I worked at a physician-owned orthopedic practice in North Florida. In clinic, I would see non-surgical sports medicine patients from the local high schools and some nearby military bases, as well as post-surgical spine, upper extremity and lower extremity patients. I also picked up weekends at the local hospital, and did some wound care (not my favorite pastime).
What did you do after that, and for how long?
After that, I moved several times (to Boston, Tampa, and New York) but always focused on orthopedics and sports medicine. I had the opportunity in Tampa, Florida to help open and manage several outpatient clinics and inpatient rehab staff with a local hospital for about three years. When I moved up to New York I jumped back into a staff therapist role in a hybrid physical therapy/sports performance facility in New Jersey.
At what point did you realize you wanted to do something non-clinical, and why?
Two big things happened around the time I relocated to New York. I had the opportunity to help write a book on strength and conditioning, and liked the idea of being able to help a wider population than I could in a clinic alone.
Then, being in New York presented an opportunity to work in the health tech industry and make a massive impact on the healthcare industry by helping drive better care. I didn't know at the time that there were real opportunities outside of the clinic, and the first place I found info about life outside of patient care was thenonclinicalpt.com!
Once I found Force Therapeutics, I was super excited to be able to reach thousands of patients through my work.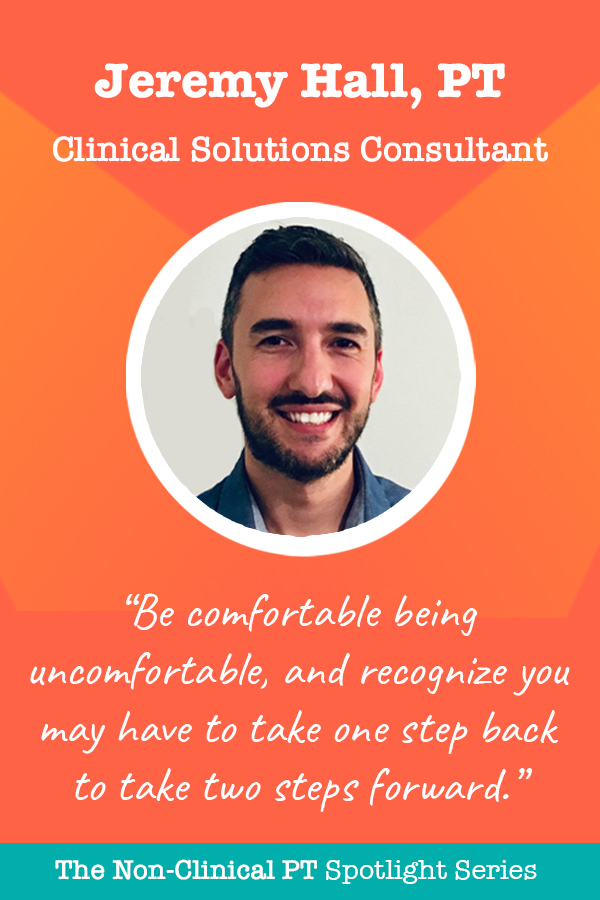 What are you doing these days?
Today I'm working as a Clinical Solutions Consultant for Force Therapeutics. My role involves working with surgeons, rehab staff, and hospital administration to help understand and optimize clinical pathways for patients before and after surgery. I also provide clinical support for the sales team in the Southeast, which entails a little bit of travel and I still do some writing and treating patients on the side.
Are you still treating patients, or are you solely non-clinical?
I do still treat some private clients 1:1 in a hybrid therapist/strength coach model, but the majority of my time is spent non-clinically.
If you're still treating patients, about what percentage of your time is spent clinically vs. non-clinically?
Right now I'm 95% non-clinical and 5% clinical.
How long have you been in your current role at clinical solutions consultant?
I have been with Force for a little over a year.
How did you find your job? Did you apply or find it through a connection?
After poking around on multiple job boards, I found the position on AngelList, which is a website with jobs at startups.
When I saw that the founder of the company was a PT (Bronwyn Spira), I looked her up on LinkedIn and reached out directly to get more information. I wasn't sure if I was totally qualified for the role, so I felt like it couldn't hurt to ask before applying, and it actually helped me expedite the process of getting an interview.
Did you do anything special to your resume and cover letter to land the job?
I just highlighted that I had experience working directly with hospitals and surgeons and growing business, and that I was motivated to be able to have a bigger impact than I could have in the clinic.
I did make sure to point out that I had worked with multiple electronic medical record systems at every stop along the way, and that I could speak to the challenges providers experience with tech.
What was the interview like for the role?
The interview process involved several rounds of interviews with the other members of the clinical team, as well as a project where I was given some information and asked to put together a PowerPoint presentation. I then had to give a short presentation to the team on what I had put together. The whole process took a few weeks from start to finish.
Did you get any special certifications or training along the way to help you become a clinical solutions consultant?
I didn't get any special certifications, but my experience working in both outpatient and inpatient as well as working directly with physicians and hospital administration certainly helped prepare me for the responsibilities of my role at Force.
How have people reacted to you leaving patient care?
My mom is a physical therapist, and I think she was the most surprised that I was leaving patient care (and probably a little disappointed).
I think most people knew I was looking for something with a little bigger impact, so most reactions have been largely positive. I certainly don't get any fewer requests to check out painful body parts from friends and family!
What's a typical day or week in the life like for you? What types of tasks and responsibilities fill your time?
My days and weeks are pretty varied. I may be helping to build or iterating on clinical exercise and education pathways for clients, collaborating with our product or research teams to better understand the clinical data, or working in support of the sales team (and traveling) to speak with prospective clinicians and administrators—every day is different.
We also attend conferences fairly regularly, and have the opportunity to speak on panels and present research that we've done. The clinical team sits across all of the other teams at Force, so we usually have a little bit of involvement in all of the things going on.
What are some of the challenges of your role? What are the rewards?
The biggest challenge is that compared to the clinic, a lot of my responsibilities are out of my hands.
It took me awhile to transition my brain to dealing with more intangible tasks and deadlines that spanned weeks or months when I was so used to focusing on the patient in front of me.
It can also be frustrating trying to get reluctant surgeons or hospitals to change the way they deliver care even when you provide evidence and data to support a better way. Large institutions are incredibly slow to change, but the reward of getting a better process in place and hearing positive feedback from patients and providers makes it worth it.
How do you think working as a PT prepared you for this role? Which skills transferred?
I think that working as a therapist gives you a much deeper appreciation for the struggles that patients face because of how much time you spend with them in clinic.
Being able to take that perspective and the ability to work in a fast-paced, unpredictable environment like a clinic translates well to the hectic and sometimes chaotic world of a rehab tech startup. While I might not use my clinical skills as much now, the clinical reasoning and communication skills you learn as a therapist play a big role in being able to deconstruct problems and communicate solutions in a language that other healthcare providers can understand.
Editor's note: Eager to read more about working at a health-tech startup? Check out this spotlight on Sarah Brzeszkiewicz, an OT who is now a clinical advisor for Sensi.AI!
What type of person do you think would do well as a Clinical Solutions Consultant (CSC)?
To do well in this role, you need to be:
Flexible
Able to work well in a team environment
Able to communicate well
At any startup—including physical therapy startups—the processes and best practices are constantly evolving, so you will never succeed if you are someone who is stuck in their ways.
We also work in small, dedicated teams for each organization that we work with, made up of members from different teams within Force dealing with different aspects of the product and service.
We spend a lot of our time interfacing with busy surgeons and administrators, and being able to efficiently coordinate and communicate amongst the team members and clients is critical to get things accomplished.
Do you work remotely or on-site?
I work primarily out of our New York City office, but we are able to work from home when needed, and I work remotely when travelling for sales, conference, or implementation trips.
Does your organization hire PT, OT, or SLP professionals into non-clinical roles?
We do hire PTs, OTs, nurses, nutritionists and PAs for our Clinical Integration team!
Did you read any books, take any courses, or do anything special overall to get you where you are today?
I did get some exposure to public speaking and personal development courses through one of my jobs, but nothing specific to tech or business. I do recommend Simon Sinek's book Start with Why for framing your perspective around change and life and business.
What is a typical career path for someone in your role?
I don't think there is a typical path! As the company continues to grow and expand into other areas of healthcare, there are sure to be plenty of opportunities to grow and progress in different directions.
Depending on your interest, there is the opportunity to work more closely with other teams at Force in marketing, production, sales, or product.
What is next for you? What do you want to do with your career long-term?
I'm not totally sure! Getting exposed to this opportunity in the technology space has been very exciting and eye-opening. I hope to continue exploring the area of behavioral science to understand why people do what they do, and to help design more engaging digital tools and content to help drive lifestyle change and healthy behaviors for patients.
What would you recommend to someone who is considering going into a role like yours?
Be comfortable being uncomfortable, and recognize you may have to take one step back to take two steps forward.
I knew I would probably feel dumb or clueless in this new environment, but I knew that the worst thing that could happen was to find out it wasn't a fit, and I could always fall back on treating patients.
It might feel like a really big risk, but in reality, it's not.
What would you like to change most in your profession, and why? How would you propose doing so?
I would like to see physical therapists take a more prominent role as front-line provider for health and wellness. I believe that if true direct access was the standard of care similar to some foreign countries and we promoted a more proactive approach to managing movement and health we would see a huge impact on a lot of the health issues in the country.
I think that almost like the dental model, where someone comes in twice a year for an examination and a cleaning, implementing 1-2 insurance covered visits for proactive physical therapy each year would go a long way to reducing injuries and disability.
If you could give yourself one piece of career advice you wish you had during your PT school program, what would it be?
For all the time that you spend learning and expanding your clinical knowledge, dedicate some time and resources to expanding your communication skills or business skills.
The ability to communicate and to understand even the basics of business can not only take you far in the clinical world, but it can provide you with additional, marketable skills in the event that you pivot in a different direction.
If you could teach anything to today's graduate students in your profession, what would it be?
I would teach them how to apply a systems approach to decision-making. I believe that if you can understand and start any problem solving from foundational principles, you will always find a way to a solution. A lot of our education is based on memorization and application, but not always on the process of how you get to a solution when you only have some of the information.
Do you have any special advice for other PT/OT/SLP/assistants who want to follow in your footsteps?
Try to get as broad of an experience as you can while working in the clinic—get involved in marketing, start some initiatives or programs, find a mentor outside of the clinical world…then go for it!
The wider your background, the better you'll be professionally and as a candidate. Be prepared to feel out of sorts and struggle at first, but know that the worst case scenario is never as bad as you make it out to be in your head.
---
Thanks for your insight, Jeremy!