Today's non-clinical spotlight focuses on Alyssa Chico, who went from occupational therapist to Skilled Inpatient Care Coordinator (SICC) at naviHealth.
---
What is your full name and title at your current job?
Alyssa Chico, MOT, OTR/L
Skilled Inpatient Care Coordinator (SICC) at naviHealth

Where did you go to OT school, and what year did you graduate?
I went to OT school at University of the Sciences in Philadelphia and graduated in 2015.
What did you do when you first finished school, and for how long?
When I graduated, I started working in a SNF. I worked there for a little over a year, working with various patients with diagnoses including:
Status post joint replacement
Stroke
Brain injury
Cardiac problems
Respiratory diseases, etc.
What did you do after that, and for how long?
I then transitioned to an inpatient acute rehab facility (ARF), where I worked for a little over two years with similar patients that were more medically complex. (I saw more TBIs, SCIs, gunshot wounds, trauma, etc.).
When did you realize you wanted to do something non-clinical, and why?
After about a year and a half after I started working in acute rehab, I started to realize how physically burned out I was getting—extremely quickly.
I had constant back pain and fatigue, to the point where I needed to see a doctor and go to outpatient PT for my back issues. I realized that this was not something my body could take for the duration of my career.
I had started dating my boyfriend about two years prior, and his mom is a nurse working in a non-clinical, remote position. As I started to realize my body couldn't handle the physical demands of this job, I started to wonder if an OT could find a non-clinical position similar to what she was doing.
What are you doing these days?
I am currently working for naviHealth as a Skilled Inpatient Care Coordinator.
We are partnered with major Medicare Advantage Health Plans, and we manage patients in the post-acute setting for insurance authorization.
We also assist in safe discharge planning, with the goal of an appropriate length of stay and decreased readmission risk.
I also have a side gig as a Rodan & Fields Skincare Consultant ☺ (A little extra cash never hurt nobody!)
Are you still treating patients, or are you solely non-clinical?
I am solely non-clinical. I did consider staying at my last job per diem because I loved my co-workers so much, but I decided my body couldn't handle it.
Plus, I would only have availability to work weekends and holidays, and one of the perks of a non-clinical job is no weekends or holidays. I wanted those back to spend with my friends and family ☺
How long have you been in your current role?
About 10 months.
How did you find your job?
I found my job on Indeed. I applied and didn't hear anything for about a month, then I was contacted by a recruiter to complete the interview process.
It did take me quite a few months of searching and coming up empty, so don't give up!
Did you do anything special to your resume and cover letter to land the SICC job?
I actually did not. I was hopeful my experience in both SNF and acute rehab would show the diversity of patient I've worked with and how it was what naviHealth was looking for and I guess I was right!
---
Editor's Note: These MedBridge Courses are excellent for preparing you for SICC roles:
What was the interview like for a Skilled Inpatient Care Coordinator?
The interview for me was two-fold. First I met in person with my now manager. The role is remote, but I am part of a local team in Southern New Jersey, so we are all close enough to meet in person.
We met at a Panera and she explained to me what the company was and what the job was, as I was not familiar with any of it. She then asked me some questions related to my experience and how I felt I'd fit in the naviHealth model.
After I interviewed with her, I had a phone interview with her manager to discuss the role and how my skills would contribute to the team.
Did you get any special certs or training for your SICC role?
Nope ☺
How did people react to your unconventional career path at first?
Most people first asked what naviHealth even was as they had never heard of it. The most common question I got was, "Won't you miss treating patients?"
Once I explained, some people said "I could never do that, I would be bored," or "I could never work from home, I would get too distracted," and some said "That sounds really cool!"
What about now?
Now that people I know in the therapy world understand better what I do, many of them are receptive and think it is an awesome job. I have gotten A LOT of people asking if we are hiring because they would like this job. I have gotten quite a few resumes from fellow therapists to submit for hiring consideration.
Some people still say they couldn't give up treating patients, but most people seem like they now want a job like mine.
What's a typical day or week in the life like for you? What types of tasks and responsibilities fill your time?
My week is about 80% working from home and 20% visiting facilities.
On Mondays, I typically work from home. I have a 30-minute meeting at 8 am via Skype, then I review any discharges/admissions from the weekend and call or email the case managers to confirm that patients admitted/discharged as planned. Then, I get started working on cases where I review clinical updates, complete our assessments, and determine if patients are appropriate for continued stays or specific discharge dates.
On Tuesdays, I usually go out to a facility in the morning and meet with patients. I share the role of naviHealth and share our assessments with the patients. The focus is on safe discharge planning. I also meet with the staff at the facilities to ensure the patients' needs are met and everyone is on the same page. Then I come home and work on more cases.
On Wednesdays, I am out most of the day, where I attend utilization review (UR) meetings at two facilities. I sit in on the meetings with the interdisciplinary team (IDT) and discuss the patients I am managing to establish safe discharge plans. I then go and meet with the patients and share this information.
On Thursdays and Fridays, I am home working on cases. Sometimes my schedule changes, depending on how many patients I have at each of my assigned facilities. I might go to a new facility if I have a higher volume of patients there, and I have the freedom to decide where I am going to go and when (except I need to obviously be at the UR meetings when they are scheduled). During the week, if I am working on a case for a patient at a facility that I do not visit, I will make phone calls to the patients and their families to share the information via telephone.
What are some of the biggest rewards and challenges of your role as a Skilled Inpatient Care Coordinator?
The biggest rewards in my job are being able to impact a patient to establish a safe discharge plan and see it executed. It is wonderful when a patient is able to transition safely and not readmit to the hospital. I have the ability to impact a patient's stay and advocate for the patient and family if I feel strongly that they need more time, additional services, etc.
Patients seem to really appreciative of the fact that I am an OT; they feel that having a clinician reviewing their case allows their needs to be recognized and met.
Another reward is career growth; there are plenty of opportunities to advance in the company!
Some of the biggest challenges I face are difficult or unsafe discharge plans. Anyone who works in therapy knows there will always be patients who will go home with an unsafe plan, despite the staff's best efforts to establish a safe plan.
I find it challenging at times to discuss alternate plans with patients and their families, such as recommending a transition to long-term care. That is not always an easy conversation to have. We also face issues where the patient is no longer skillable, and a last covered day needs to be issued—and the patient and family do not agree.
How do you think working as an OT prepared you for working as a Skilled Inpatient Care Coordinator?
I couldn't do this job if I wasn't a clinician ☺ I would say the biggest skills that play a role in my job are:
Patient engagement. I am used to working with patients, and am thus able to explain to them why their therapy is so important—and they really respond to this. I have been able to use my clinical experience to provide patients with occupation-related recommendations (such as DME recommendations) that they have not heard of before.
Clinical reasoning: Also, being an OT has helped me in some case reviews where my clinical skills and judgment recognized the need for a continued stay where another type of clinician may not have seen a need for more time. For example, a patient who was NWB on her RUE was starting to plateau in therapy using a hemi-walker. However, I noted that she had an upcoming ortho appointment where she was likely going to get upgraded. I was able to advocate for the patient to stay in the facility until her appointment. She did get upgraded, was able to use a rolling walker, and was much safer with that device. She wound up discharging home at a more independent level.
Roughly speaking, how are the hours and pay compared to patient care?
At my clinical job, I worked 7:15 am – 3:30 pm with a half hour for lunch. I now work 8:00 am – 5:00 pm with an hour for lunch.
This position provided a significant pay increase for me from my clinical salary.
What type of person do you think would do well in your role?
To work in my role, someone would need to definitely be detail-oriented and compassionate, but also have some thick skin and not be afraid to make decisions and be able to back those decisions up. Someone who is a team player with solid communication skills would do well in this role.
Do you work remotely or on-site?
I work remotely about 3½ days per week and on-site 1½ days roughly. It varies depending on my caseload and the facilities I need to visit.
Does your organization hire PT, OT, or SLP professionals into non-clinical roles?
My organization hires PTs, OTs, SLPs (I think), and RNs into non-clinical roles.
People can find these postings on the career page of the naviHealth site.
What is next for you? What do you want to do with your career long-term?
I would like to grow with this company and eventually transition to either a management/leadership role or an educational/development role.
What would you recommend to someone who is considering going into a role like yours?
It can be a difficult transition going from clinical to non-clinical, but know that your clinical skills and judgment will provide you with the basis that you need to be successful.
Trust your training and your skills and know that these non-clinical roles are just as important as the front-line clinical roles in ensuring successful outcomes for the patients.
What would you like to change most in your profession, and why? How would you propose doing so?
NaviHealth is actually addressing one of the things that I would like to change most, which is changing from healthcare being a fee-for-service model to becoming a value-based care model.
I would like to see the shift from quantity to quality of patient care. As a clinical therapist, facing financial barriers was such a challenge.
I would like for patients to be able to have access to more services, and I think that by clinicians getting out into the field and sharing knowledge and collaborating with other clinicians and staff members, we can expand our knowledge and provide resources to patients.
If you could teach anything to today's graduate students in your profession, what would it be?
I would teach them the realistic, logistic parts of the job. While my job now is working to get away from some of these barriers, I didn't know going into my first job, for example, the pressure I would face as a treating clinician to "get all of my minutes" for reimbursement, or to keep my productivity above a certain percentage.
Not to sound cynical, but these are things that nobody tells you in school, and something I didn't know how to deal with as a new grad. I had some situations where I was pressured to get as much time as possible with patients who were not appropriate or benefitting from more therapy.
I would teach students how to advocate for the patients, especially in these difficult situations, how to focus on the quality of care over the quantity.
I know that, ultimately, any business is worried about the bottom line, but I think a shift to value-based care would allow for better outcomes, which should be the real bottom line.
Do you have any special advice for others who want to follow in your footsteps?
Know that it will be scary at first, and you will probably question your decision a million times, but know that you're doing the right thing.
My Skilled Inpatient Care Coordinator (SICC) job is the perfect hybrid for me to be able to continue to utilize my clinical skills and engage with patients while enjoying a work-life balance that I didn't have before.
Always remember that as clinicians our fields are always growing and expanding—and there is always something else to do or try to better yourself and your career! ☺
---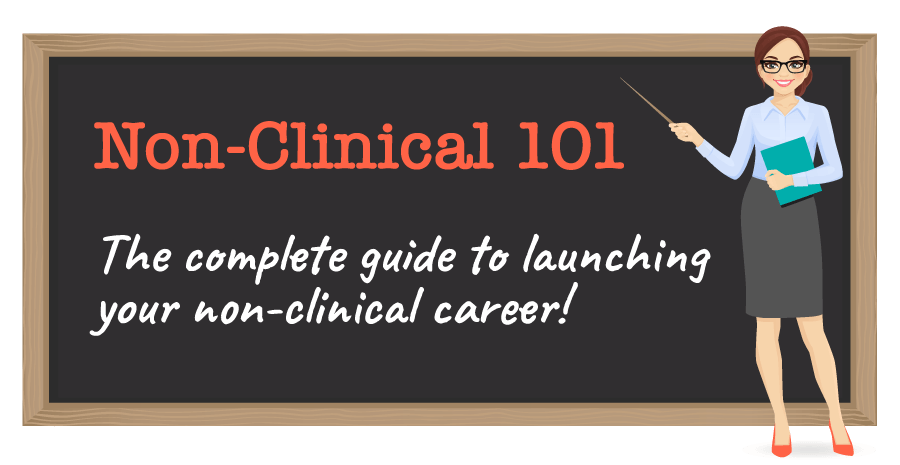 Overwhelmed by non-clinical options? Non-Clinical 101 has structure, depth, and just enough hand-holding as you explore 25 non-clinical career paths!
---