Today's non-clinical spotlight focuses on Ilea Pavel, who went from physical therapist to Assistant Clinical Director at Residential Home Health.
---
This post may contain affiliate links or codes. This won't increase your cost, but it helps keep TNCPT alive, and free of annoying ads! Thank you for your support. 🙂
What is your full name and title at your current job?
Ilea Pavel, PT, DPT
Assistant Clinical Director at Residential Home Health

Where did you go to PT school, and what year did you graduate?
Northwestern University, Feinberg School of Medicine. I graduated in December of 2009.
What did you do when you first finished school, and for how long?
My first job out of PT school was in a hospital-based outpatient clinic, and I was there for about three years. The majority of diagnoses were orthopedic/musculoskeletal in nature:
Back and neck pain
Post-surgical total joint replacements
Laminectomies
Rotator cuff repairs
Work or sports-related injuries, etc.
There were occasionally patients with neuro diagnoses, such as MS or Parkinson's Disease.
I served on committees that promoted mind and spirit well-being for patients, and helped to initiate pet therapy for those in the hospital.
I also was able to become a clinical instructor in that setting and worked with one or two students before I left the hospital.
What did you do after that, and for how long?
I stayed in that setting until I became pregnant with my first baby. I was working four 10-hour days per week, and was concerned about my work-life balance with a new baby.
I contacted former colleagues and mentors who had moved into home health settings, and liked a lot of what they had to say. I made the move to work as a field PT at a home health company in April of 2013, about three months before my baby was due.
It was a little overwhelming to start a new job with my due date looming, but my company always made me feel supported and excited for what I was going through personally and professionally.
What did you enjoy about your early roles? What didn't you enjoy?
The home health setting was initially totally foreign to me. I disliked acute care settings in my field work as a student, so I was less familiar with chronic diseases and disease management.
The documentation system in home health was new; it was sometimes difficult being on my own.
However, I really love my company. My supervisor was incredibly supportive and made time for me to come into the office to do chart reviews with her to improve my skills, and I found that my coworkers were easily accessible if I had a question or needed to know what to try with a particular patient.
In time, I was promoted to be a preceptor—which involved training new employees with hands-on patient care and documentation—and then a mentor, which involved providing field assessments and feedback to my PT peers in the field.
When did you realize you wanted to do something non-clinical?
My work as a preceptor and mentor cemented in my mind the fact that my true passions relating to physical therapy didn't lie with the patients themselves.
As I reflected back to the things that got me excited in school, and other opportunities earlier in my career with the hospital system, it was just really clear that what I wanted was not direct patient care.
I wanted to focus more on education, quality review, process improvement, and documentation best practices; in essence, I really wanted to work with other clinicians to help them provide the best care that they could.
An opportunity for a promotion to therapy supervisor came up within my company, and I was hired for the role. Some of the tasks included:
Case conferencing with clinicians to help guide their thinking regarding their patient care
Troubleshooting the issues they were facing
Performing documentation review and chart audits
Assisting with the development of policies and procedures that would ensure our agency was maintaining the highest levels of care, quality, and regulatory performance
Being involved with these tasks was exciting and enlightening. It was so interesting to get pushed outside of the bubble I had been operating in when it was just me and the patient in the home.
What are you doing these days?
Right now, my position is Assistant Clinical Director.
In my current role, I supervise our office team (composed of therapy and nursing supervisors, and an intake/scheduling team), and monitor the plans of care for patients in my territory.
I also continue to be a part of process improvement and policy shaping for various measures across the branch, such as rehospitalization risk management.
Are you still treating patients, or are you solely non-clinical?
This is a fully non-clinical position.
How long have you been Assistant Clinical Director?
I was a supervisor for about two years before I was promoted to my current position, which I have held since September of 2018.
How did you find your job?
I reached out to a former colleague (actually, my first mentor at my first job!) who had moved into home health and asked a lot of questions of her regarding what a field staff PT position would involve.
My primary concern at that point was trying to establish what the working hours and expectations were, to understand if it would give me what I was looking for as a new mother. At the end of our discussion, she asked me if I wanted to interview for a field position.
Since then, she has continued to be a mentor to me in my career development, and I greatly value her support and guidance.
Did you do anything special to your resume and cover letter to land the assistant clinical director job?
No. I had many of the behavioral characteristics this job required—a willingness to learn, a drive to seek out and accept feedback, and a desire to work within an interdisciplinary team.
What was the interview like for the assistant clinical director?
My first interview to join the company as a field PT was very relaxed. I was six or seven months pregnant when I interviewed, and what stands out to me is how comfortable they made me feel regarding that situation through the hiring and onboarding process.
They took the time as we went through the process to answer my questions about maternity leaves, health care coverage, etc, and were nothing but enthusiastic and supportive of my baby's impending arrival, never mind that it was occurring so quickly after my hire date!
The next interview I had was for an internal job posting for therapy supervisor, and I felt excited. It was a position I had decided I really wanted and felt I had more applicable experience through being a preceptor and a mentor.
I was pregnant with my second baby at the time of that promotion.
When I compare my experiences in the workplace throughout two pregnancies and becoming a new mother trying to simultaneously navigate a career ladder, to that of other women that I read or hear about, I feel a huge sense of gratitude for the support and opportunity I have received.
The interview for my current role was a bit more stressful, because the position was new to our branch. There was a great deal of ambiguity at the time surrounding what the day-to-day tasks and activities would look like.
However, it was my intention then and now to show myself to be a leader who was willing to take on new challenges. My growing ability to handle change with an optimistic attitude and problem solving approach has helped in my current success.
Did you get any special certifications or training along the way to help you get into your current role?
I have participated in customer service training and personality assessments/training provided by my employer as a therapy supervisor.
Both of these additional trainings have been very important in different ways—the customer service training taught various strategies to de-escalate a situation and advance a patient (or family member, or clinician, or coworker) towards a solution.
The personality assessment gave me some insight into why and how I react to different situations, which I have tried to use to help primarily with how I respond to a changing or uncertain environment.
[Editor's note: I'm a big fan of personality tests and self assessments. We spend a lot of time in Non-Clinical 101 doing these introspective activities so you can determine the best possible role for you in the non-clinical world!]
How have people reacted to you going non-clinical?
My current employer makes an effort to promote from within as much as possible, so I am surrounded by others who have chosen a similar career path.
My husband was a huge support for me throughout these career transitions, recognizing that I was feeling more and more professionally fulfilled, while still developing and maintaining a work-life balance that worked for our family.
What's a typical day or week in the life like for you? What types of tasks and responsibilities fill your time?
My responsibilities in my current role are twofold:
I oversee and manage the plans of care of our patients
I oversee and manage the office team.
This involves daily chart audits for a sampling of patients and review of clinician orders, as well as participation in process-improvement groups and monitoring trends in our quality and performance.
I'm frequently called on to troubleshoot different situations, participate in staffing and hiring decisions for our territory, and facilitate clinician case conferencing.
The day is never structured quite the same; there's always a different meeting to attend, a new quality measure to improve, or a new patient chart to review and make recommendations for.
Because I now manage the nursing side of my team in addition to the therapy side, I've had to learn more about nursing plans of care, the difficulties of case management, triaging patients based on medical status, wound care, documentation best practices, and other aspects of nursing skilled care that I previously didn't have much of a perspective on.
I'm developing an understanding of financial and health care administration aspects of the care that is provided as well, which is very interesting!
What are some of the challenges of your role? What are the rewards?
This role came with new and different daily responsibilities, so time management is an ever evolving part of my day.
As a leader in the office, my priority is making sure my team has what they need to do their jobs well.
My new position involves other aspects of healthcare I was less familiar with in past roles, such as overseeing and conferencing on nursing plans of care, and the larger aspects of business management and the financial performance of the agency.
I'm learning most of this on the job as I go along by asking questions and tracking down resources when possible.
The work is fascinating. I love having a chance to help different parts of the team work together to make the system at large work better, or more efficiently, for our patients and the clinicians we work with.
I also really love the team I supervise-they are so focused on being a support to our field clinicians that they really inspire me to keep working hard to give them what they need from me.
How do you think working as a PT prepared you for this role? Which skills transferred?
Therapists are problem solvers. We have to be able to look at a problem from many different perspectives to get at the best solution for a patient, and that's still a big part of what I do now.
Every day there is a new problem to solve, whether it is a tricky patient situation, a staffing issue, or talking through changing up the way we ask our clinicians to document. It's exciting being able to work with so many different disciplines and backgrounds.
Roughly speaking, how are the hours and pay compared to patient care?
At my agency, my move to a salaried supervisor position was met with a pay cut compared to the pay per visit rate I was getting in the field. However, for me, it was balanced by what I considered to be a better work-life balance with my young family.
Because I work standard business hours, rather than the hours my patients are available, my time away from home is also a bit more predictable.
What type of person do you think would do well in your role?
The biggest assets someone could have in this type of role are an ability to be flexible with day-to-day tasks, and a willingness to accept change.
I walk in and some days end up doing something completely different than what I had on my to do list. We are in a state of constant reevaluation of our policies and process improvement, and that means being able to learn and implement a new procedure quickly.
Another aspect is a willingness to confront mistakes and failures and approach them from a vantage point of solving the problem or exploring a new process.
That's not always comfortable for everyone, but it's about the type of attitude we want to cultivate and the culture we want to thrive at our agency—if we want to be the best, we have to be willing to work on the areas that need improvement and give a new process a chance to succeed.
Do you work remotely or on-site?
I work on site with occasional remote work available.
Does your organization hire rehab professionals into non-clinical roles?
We have clinical people in non-clinical positions throughout the agency. Our educators are nurses and PTs, our clinical director is a physical therapist, our supervisors are exclusively nurses and therapists (right now, PTs and OTs), and our scheduling/patient services team are LPNs.
Our jobs are posted on our website and other career sites such as Indeed.
It's really great to be surrounded by so many clinical people doing non-clinical work; there's a wealth of knowledge that we can pull from at any time. Plus, because we've all been in positions with direct patient care before, we all know what the clinicians are up against—and we can try to anticipate and mitigate the barriers or concerns they may bring to our attention with documentation or new processes.
Did you read any books, take any courses, or do anything special overall to get you where you are today?
Not really. Much of my training was on the job and evolved as the job has evolved.
I continue to look for continuing ed classes that are applicable to business and finance management, clinical reviewing, ethics, etc.
What is a typical career path for someone in your role?
Our supervisors have typically started as field therapists or nurses with a desire for educating others. From there, they become our mentors and provide education during our learning modules throughout the year, and annual assessment and retraining for their peers in the field.
Those who enjoy and excel in that work may move out of the field and into the office as supervisors—and from there, they transition into other areas, such as the Assistant Clinical Director role, quality assurance, education, etc.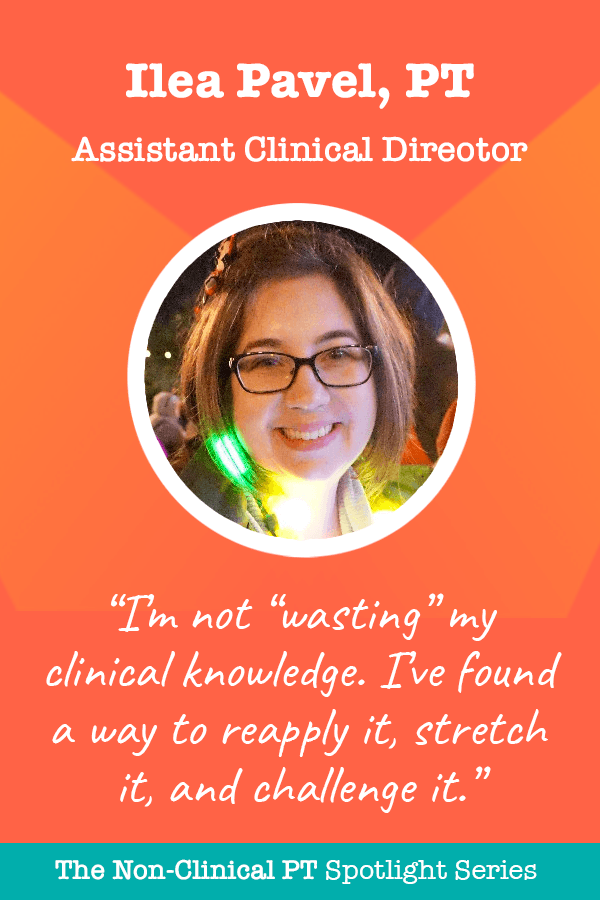 What is next for you? What do you want to do with your career long-term?
I've been in my current position for less than a year, so for now I'm content to learn and become an expert in this role and the challenges that it can present.
I do not see myself returning to patient care—there are so many changes coming over the next year for home health that it is hard to even consider what possibility and opportunity may come up!
What would you recommend to someone who is considering going into a role like yours?
Despite the fact that I am not seeing patients, I have never felt that I am "wasting" my clinical knowledge. I've found a way to reapply it, and stretch it, and challenge it.
Developing documentation best practices and staying up-to-date on new regulations can help to transition more easily from fieldwork to supervisory roles.
My words of wisdom: go for it!
What would you like to change most in your profession, and why? How would you propose doing so?
I believe that therapists need to do a better job of recognizing that the things that feel external to our "job" (meaning outside of direct patient care), are actually critical components of the care we provide.
Documentation, utilization of benefits, managing insurance cases, discharge planning, resource management, these are essential aspects of how our patients are cared for.
Healthcare is a business. We don't want to think that way because it feels mercenary when our intentions with our patients are noble—we all got into a health care profession because we want to help others live their fullest lives. Because of that, we like to think that the care we provide transcends business.
However, the fact of the matter is that we have to find a way to be thoughtful stewards of the totality of the care we provide the patients, and that includes the way they move through the healthcare system.
Particularly in home health, changes associated with the review choice demonstration roll out and PDGM payment models are going to change the way we document and how therapy is utilized within the plan of care.
There is some fear associated with that, but part of our success is going to be realizing that we are providing a service—a service that needs to be performed correctly via our best practices and appropriate utilization, and paid for through the quality of our documentation and successful resource management.
If you could teach anything to today's graduate students in your profession, what would it be?
Going along with the previous question, I wish my education had included more exposure to healthcare business administration or management. I wish we had learned more about insurance utilization and how to navigate that (writing an appeal letter; or, how to alter my plan to appropriately work within a small number preauthorized visits), etc.
A deeper understanding of how Medicare functions, for example, would have served me well in all of the settings I have worked in so far.
There's already so much to cover in PT school, but again, I believe very strongly that a certain amount of business savvy is essential to being able to continue to provide the care required by our patients.
Do you have any special advice for other rehab clinicians who want to follow in your footsteps?
Say yes. Say yes to that special project, yes to that opportunity to sit in at a meeting, yes to a chance to mentor a new employee, yes to a chance to provide feedback on an initiative or process. Say yes to an interview. Say yes to a chance to shadow another discipline. Don't be afraid—you won't regret it!