Today's non-clinical spotlight focuses on Jake Hodges, who leverages his PT background in a really cool Director of Rehabilitation (DOR) role with tons of data analytics and clinical informatics tasks!
---
This post may contain affiliate links or codes. This won't increase your cost, but it helps keep TNCPT alive, and free of annoying ads! Thank you for your support. 🙂
What is your full name and title at your current job?
Jake Hodges, PT, MPT
I'm the Director of Rehabilitation (DOR) of Caprock Home Health Services, Inc.


Where did you go to PT school, and what year did you graduate?
I attended Texas Tech University Health Sciences Center and graduated in 2005.
What did you do when you first finished school, and for how long?
My first job was in direct patient care for an outpatient orthopedic clinic affiliated with a local county hospital. I worked in the outpatient world for four years.
In what setting(s) did you work, and what types of patients did you treat?
My career has been split between outpatient orthopedics and home health. I have been involved in treating a wide variety of patients, ranging from youth sports athletes to geriatrics.
At what point did you realize you wanted to do something else?
I realized that I was on the verge of burnout when I was working for a home health agency that was very heavily driven by productivity measures.
I was beginning to focus on the volume of visits instead of the quality of those visits with the patients. At this point, I began exploring other career paths entirely.
I completed flight school and obtained my pilot's license, thinking about leaving healthcare all together.
After looking for something else, but not finding whatever it was I was looking for, I was lucky enough to be offered a position for a local home health agency to start up their therapy division.
This position had the potential to make the transition to a non-clinical management role.
What are you doing these days?
I am the Director of Rehab for a home health agency and oversee the operations of the therapy department.
However, most of my time is spent providing data analytics for clinical performance and developing plans and recommendations for improvement for all clinicians, not just therapists.
Are you still treating patients in this director of rehabilitation role?
The overwhelming majority of my work is non-clinical.
I will occasionally see patients to cover for a therapist if they take time off, which I feel is important so that I continue to have first-hand knowledge of day-to-day operations—and don't lose sight of the clinicians' point of view.
How long have you been in your DOR role?
I have been in my position for four years.
How did you find your job? Did you apply or find it through a connection?
I was contacted by a colleague who was a nurse on staff for the agency. At that time, they were restructuring the treatment teams and were looking for a lead therapist/director.
Did you do anything special to your resume and cover letter to land the job?
I added details of my work in the areas that are outside the typical PT job description. For example:
Regulatory affairs
Government involvement
Compliance
I feel like the performance of myself and my team was more important than an actual resume that I could have submitted. Being able to bring results and critical thinking to the table was stronger than my resume.
What was the interview like for the role?
The initial interview was conducted by several members of the company, from staff clinicians up to the executives. Discussions covered:
Clinical scenarios
Leadership questions
Operational knowledge at the agency level, etc.
The first time I was up for performance review, I made it clear that I was ready to accept more non-clinical responsibility. I feel it is important to ensure that your leadership knows what you are capable of—and you must be the one to take the initiative to propel your position.
I was given the opportunity to supervise a regional therapy staff, and then things took off from that point.
Did you get any special certifications or training along the way to help you get into your current role?
The training was informal and very self-guided. I began immersing myself in the analytics world while I was still in direct patient care.
I attended as many conferences as possible to build my network and connect with potential mentors. The APTA Combined Sections Meeting is an opportunity to find out what training is available and network with the people who are specialists in that area.
There are so many options for training that can fit into your schedule and learning style. Because I spent a lot of time in my car driving between patients' houses, podcasts and webinars were an easy way to learn.
I listened to everything put out by Mark Horstman and Jocko Willink whenever possible.
---
Editor's Note: I strongly recommend exploring low-cost, online courses like this professional certificate in data science by IBM. It's a great, affordable way to learn applicable skills and build up your resume.
---
What's a typical day or week in the life like for you? What types of tasks and responsibilities fill your time?
Honestly, my days are typically spent juggling responsibilities.
I play a clinical support role for guidance in patient case management.
I also monitor each branch location's quality and performance.
I spend a significant amount of time reading updates on regulations, rehab compliance, consultant recommendations, and audit reports.
I regularly scan the websites from CMS, state and national home care associations, APTA, and consultants to keep on top of the constant changes in our industry.
How do you think working as a PT prepared you for this role?
I read a great quote in a previous spotlight from Ellen Bunn, PT, DPT (a clinical program manager), which said, "I've learned that PTs often think very operationally. We think in terms of procedures, we think sequentially, and we think ahead." I agree with this completely.
I strongly believe that you cannot assume that a good clinician will automatically become a good leader or manager.
My experience in direct patient care allows me to have a much greater understanding of the impact that decisions from the leadership team has on the clinical staff. I almost have a role of "translator" between the clinical staff and upper management.
Strong communication skills are a must. I have learned the importance of frequent and clear communication and follow-up—not only with my direct boss, but also with the staff that I lead.
Roughly speaking, how are the hours and pay compared to patient care?
I would say that the hours are longer, but different. I spend time reading everything I can that relates to my current projects. The more time you spend sifting through the rules, regulations, and policies, the more comfortable you become.
I found that, at this point, you can be confident in your recommendations to the company for any changes.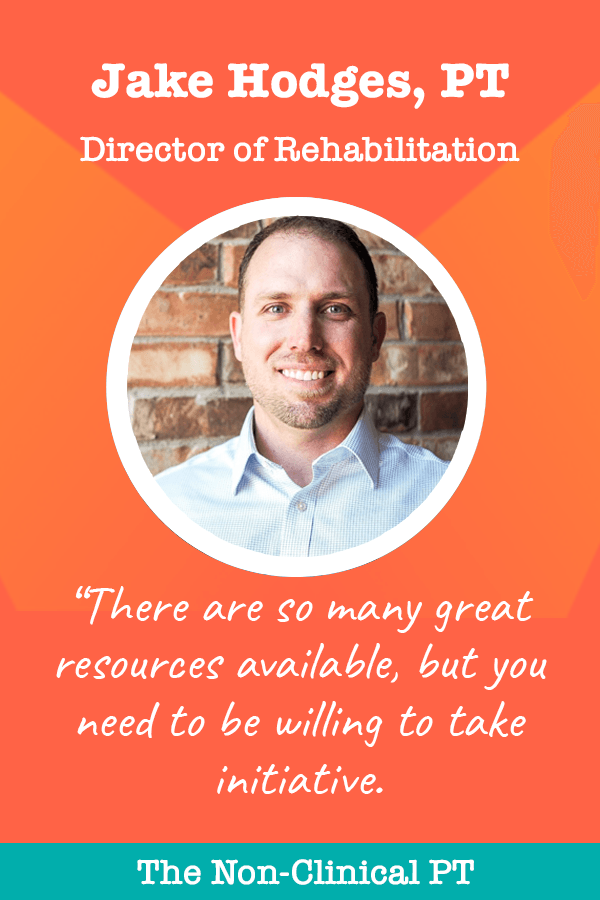 What type of person do you think would do well in your role?
I think that paying attention to detail is absolutely a trait that will help in succeeding.
Data analytics in healthcare is huge when a decision needs to be made. If your information is not accurate, there can be trouble.
It is important in my role to be able to communicate with the upper management to help prepare for the industry changes that are coming our way—and to be able to communicate those changes effectively to the staff.
Turning data into action is the focus. If you can help facilitate the changes and provide the rationale behind your recommendations, you will definitely have more success.
Do you work remotely or on-site?
I work mostly on-site in order to allow all divisions of our company the ability to walk into my office and discuss any issues that might pop up during the day. However, I have the capability to work remotely, as all of my work is accessible online.
Does your organization hire PT, OT, or SLP professionals into non-clinical roles?
We are constantly assessing our team needs as our company grows. And yes, we are very open to utilizing therapists in leadership roles. Non-clinical roles that have been offered by Caprock are mostly in the marketing division. We post openings on our company webpage (www.chhs.com) and the major job search pages.
Did you read any books, take any courses, or do anything special overall to get you where you are today?
I'm always interested in the approaches that different people use to work through common issues and roadblocks in their careers. There are several great resources available from Bob Fazzi and Mark Horstman online that offer instruction on how to become a more effective manager.
What is next for you? What do you want to do with your career long-term?
I would love to continue to help cultivate national home health policy. The baby boomer population is about to exponentially increase the number of patients that will need home health care. I'd like to continue and expand efforts with the APTA Regulatory Affairs team to have a positive impact with any future healthcare policy changes.
What would you recommend to someone who is considering going into a role like yours? Do you have any special words of wisdom for the readers?
I would suggest the following:
Gain several years of clinical experience in multiple settings. This will give you a realistic understanding of clinical operations and the issues that will be part of your foundation in a non-clinical role.
Hone your communication skills. You need to be able to effectively communicate (almost in a "translator" role) between the administration and clinicians.
Volunteer to be on any non-clinical development or special project team that your company offers.
Learn as much as possible about the business aspect of your company. This be most enjoyable if you are working in a setting you enjoy. Learning about the business side of things will give you the most insight on how clinical informatics would benefit your company.
Show value in a way no one else can. Once you identify your area of interest or strength, lean in and go the extra mile to show your value and willingness to take initiative.
If you could give yourself one piece of career advice you wish you had during your PT school program, what would it be?
Pay attention to the business aspect of therapy as soon as possible. I have learned that this part is crucial to making yourself stand out to management as an asset to the company.
If you could teach anything to today's graduate students in your profession, what would it be?
Definitely advocate for yourself and your profession. Do not take the mindset of "Someone else will handle it".
Educate yourself in areas outside of clinical treatment such as:
Finance
Regulation
Legislation
Management
Do you have any special advice for other rehab clinicians who want to follow in your footsteps?
Volunteer to be part of special projects in your organization. Learn as much as you can about the "operations" side of healthcare from the specialists. There are so many great resources available, but you need to be willing to take initiative.
Be an advocate for yourself in learning and seeking out mentorship in whatever area interests you.
---
---
Thanks for your insight, Jake!