Today's non-clinical spotlight focuses on Erick Alvarez, a physical therapist who now works as PT Medical Management Director in the utilization review field!
---
This post may contain affiliate links or codes. This won't increase your cost, but it helps keep TNCPT alive, and free of annoying ads! Thank you for your support. 🙂
What is your full name and title at your current job?
Erick Alvarez, PT
PT Medical Management Director at SecureCare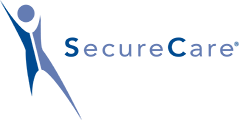 Where did you go to PT school, and what year did you graduate?
Florida International University, 1999
What did you do when you first finished school, and for how long?
When I first graduated, jobs were difficult to come by due to the implementation of the Medicare Cap.
Many employers were unsure how it worked in South Florida and did not want to risk their company to an audit. I ended up having several per diem jobs, working seven days a week.
I would work at a comprehensive outpatient rehab facility (CORF), an outpatient PT clinic, a SNF, an IRF, a pediatric home health agency (HHA), and an acute care hospital.
I wanted to get as much experience as I could by treating a wide variety of patients and connecting myself to as many healthcare professionals as possible for future reference for a full-time position (since a full-time position was difficult to come across).
What did you do after that, and for how long?
I started working for an outpatient physical therapy company who offered me a position with anywhere from 12 hours a week to 40 hours a week.
They had several clinics in the South Florida area, and a position opened to be the PT Clinical Director at one of their offices. The job was 45 miles from where I lived. They also wanted to train me with Functional Capacity Evaluations (FCEs).
After working as a PT Clinical Director, I was offered an internal transfer to be an Industrial Rehab Director for the South Florida region. I performed FCEs from Homestead to Tampa/Orlando area. It was fun because I was provided a company car, Palm Pilot, cell phone, and a laptop. I was able to visit different clinics and talk to clinicians, and see how varied different clinics' practices were. I also spoke with employers and third-party administrators. I also provided in-services on FCEs, ergonomic evaluations, and employment screening.
I did this for about two years, while still working in a SNF on Saturdays, an acute hospital on Sundays, and a pediatric home health service during weeknights.
What came next?
I eventually worked at an outpatient sports medicine clinic in the South Florida area, which I loved—but I felt like I wanted more of a "career move" and then, six months later, I took a director position at a worker's comp clinic while still performing my other evening pediatric home health, and weekend SNF work.
I eventually needed a break and took a little two-month sabbatical to go on a backpacking trip through Western Europe.
What did you do when you came back?
When I returned, I worked per diem for a hospital system in outpatient rehab and acute care in the Miami-Dade area. I also helped an old OT friend of mine who had started a pediatric home health company, so I filled in as a PRN PT.
Then, a therapist I went to school with contacted me and told me here in Hialeah, there's an outpatient clinic and the person running it received a promotion. Are you interested? I was interested, so I interviewed and accepted. It was a high population of Spanish-speaking patients, as well as a workers' comp population.
I returned to performing Industrial Rehab with FCEs, pre-employment screenings, and work conditioning. I worked there for about 3.5 years and really enjoyed it.
But at some point you left 🙂 How did that work?
I then met my future wife on a cruise! She was still in college, but after she graduated from her school, I decided to move with her to her hometown in Omaha, Nebraska.
I worked at a physician-owned practice with a group of orthopedic spine surgeons and physiatrists for almost seven years. I started their FCE program during that time.
I also was interested in improving their EMR system, and began to learn how to code the program to facilitate PT clinical documentation since the EMR system was geared more for physicians instead of PTs.
At what point did you pursue a non-clinical role?
I then accepted a remote position as a clinical reviewer with MedRisk. At first, I was reviewing cases and authorizing visits, but later, I began performing proactive reviews and discussing cases with providers. MedRisk allowed me to be an active peer-to-peer reviewer to assess the medical necessity of cases.
I also became the subject matter expert for FCEs. We then began working on telehealth physical therapy.
Why did you go into utilization review?
My wife and I started having children and I wanted to find a position that allowed me to work from home. That turned out to be working in a utilization review career.
I really wanted to know what insurance companies and TPAs considered proper PT clinical documentation. I was also curious about which evidence-based outcomes they are looking for and how they are tracked, who authorizes visits and using what guidelines, and what research did these guidelines come from.
I also wanted to know how healthcare policies were created and how that affects the PT profession as a whole.
What did you enjoy about your early roles?
Treating patients, traveling, continuing education courses, and meeting and learning from other clinicians.
What didn't you enjoy?
Administrative burden involved at work, including prior authorization requests and excessive clinical documentation (specifically when TPAs or insurers requested weekly reports or approved a low number of visits for post-surgical or complex cases).
I didn't like the divide between upper management and clinicians, especially with communications about insurance policies and regulations.
What are you doing these days?
For the last two years, I have been the Physical Therapy Medical Director for SecureCare in Omaha, Nebraska.
SecureCare has allowed me to be involved in high-level meetings with payers and push for increased utilization of conservative care, discuss issues and concerns with state and national association leaders, and make an impact in the PT profession. It has also allowed me to participate in the operations and overall growth of the company
Work and family duties keeps me busy. Having four children across six years means my days include trips to daycare, soccer practice, faith formation classes, and keeping up with housework—especially with my wife working on her school administrative degree.
Are you still treating patients, or are you solely non-clinical?
In my current role, I am no longer treating patients, but I do stay connected to the field by performing record reviews and speaking with clinicians.
How did you find your job? Did you apply or find it through a connection?
Just searched the local market on job boards and this position came up!
Did you do anything special to your resume and cover letter to land the job?
I have been lucky to have a good non-clinical resume. I highlight positions/roles I have taken and indicate the major tasks I have completed. I also write any new skills I have developed with each role I've held.
This includes:
I also provide some hobbies/interests or skills and associations I have worked with, so the employer knows a little bit of my personal side. I feel providing a little bit of yourself allows employer to know if you are a well-rounded person.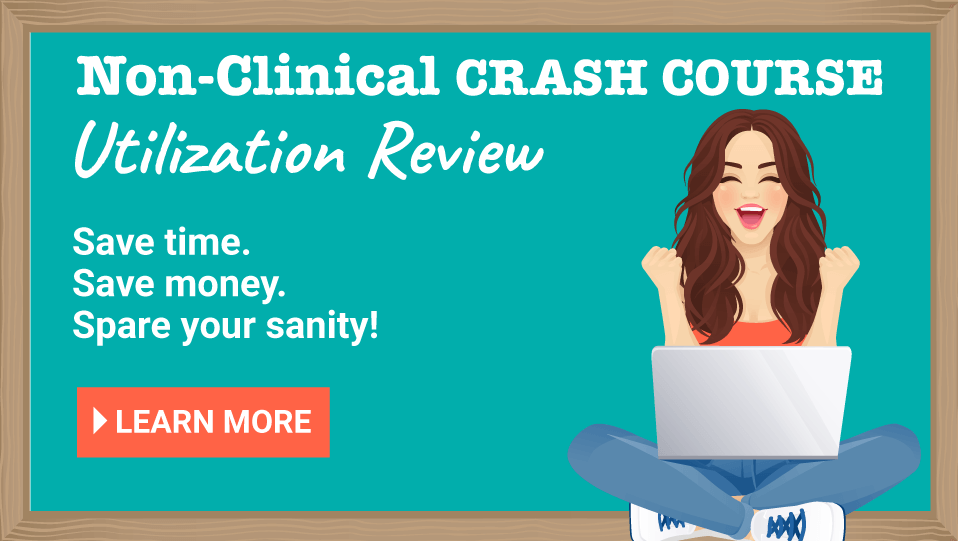 What was the interview like for the PT Medical Management Director role?
I interviewed with SecureCare's Chief Executive Officer (CEO) and Chief Medical Officer (CMO). They provided me with an overview of the company, and what they were looking for in my current role.
They were transparent with their vision for the future of healthcare and with promoting the importance of conservative care in value-based healthcare. Since we are provider owned, SecureCare advocates for providers—especially for clinicians who are effective with providing appropriate care. They wanted to know my experiences as a PT clinically and non-clinically and how I work with adversity and challenges in my profession.
They also demonstrated an openness to my sharing of ideas and talents for the future success of SecureCare.
Normally, PT job interviews are about knowing the population you're going to be treating and knowing if you are able to handle a clinical workday. However with this job, it was more about learning and understanding what physical therapists do and what can be done to increase access to care instead of denying patient care—as well as promoting clinicians who are treating patients appropriately.
Did you get any special certifications or training along the way to help you get into your current role?
I have taken many continuing education courses from manual therapy and industrial rehab (FCE, work conditioning, ergonomics), to providing functional treatment and care for patients.
Lately, I enjoy going to state and national association conferences, where you find a wider spectrum of physical therapists and you have the option to go to a session and learn treatments that specialized PTs are performing.
You can go to a pediatric session, a neuro session, a research session, an orthopedic session, a home health session, and a practice management session. It is a good way to learn what physical therapists are doing in all sorts of specific areas of the profession.
If you advanced through the company to get to where you are, what are some of the things can recommend to stand out, take initiative, and advance?
Be a good listener
Be genuine
Be honest
Be humble
Be inquisitive
Learn from those who have experience
Be open to trying new things
Be an engaged, active learner by staying up-to-date
Research what you don't understand, using books, journals, or the internet —or ask colleagues, coworkers, family, or friends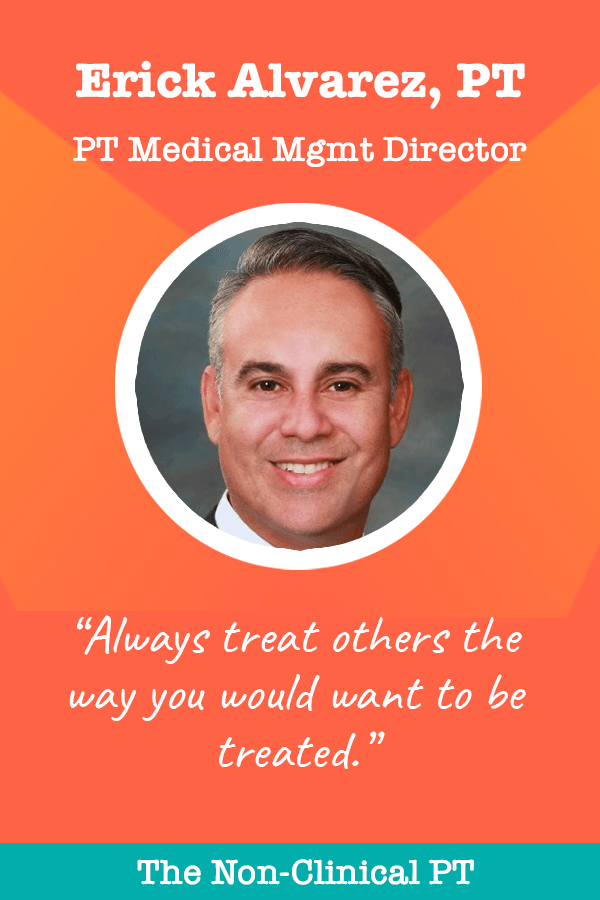 How have people reacted to you leaving patient care?
Many have asked why I stopped treating patients. Do I miss treating patients? How do I know what physical therapists are doing?
I loved treating patients, and there is great satisfaction in helping patients get back to a level where they can resume their activities of daily living.
Over the past 20 years, my role as a physical therapist has led me to gain valuable experiences in the clinical setting; I have made a point to learn as much as I can about my profession. From treating patients in a dozen different settings, to being a clinical reviewer, to performing telerehabilitation and obtaining physical therapy licenses in over 20 states—all of these opportunities led me to becoming SecureCare's Physical Therapy Medical Director.
Since leaving patient care, I have learned more—especially after reviewing medical records from cases across the country. You will find a new techniques or equipment that is being used, and then research more about them.
How would you describe your role? What's a typical day or week in the life like for you? What types of tasks and responsibilities fill your time?
As SecureCare Physical Therapy Medical Director, my role includes:
Explaining the various settings in which physical therapy is performed—and the wide spectrum of clinicians and specific specialty they may practice, such pediatrics, geriatrics, oncology, neurological, women's health, orthopedic, etc.
Having discussions with payers about the important role physical therapists have within conservative care and its cost-effectiveness in comparison with more upstream services, such as pharmaceutical management, diagnostics, and surgeries.
Performing clinical and quality reviews to improve policies and clinical standards.
Having conversations with state and national association leaders to discuss issues and concerns of providers to provide collaborative input to improve processes and accessibility of our profession.
What are some of the challenges of your role?
Staying focused and on task, especially when going from one meeting or call to another. Being able to communicate clearly.
What are the rewards?
Promoting conservative care and the PT profession
Being able to meet great people and clinicians
Meeting state and national association leaders
Meeting face-to-face with insurance executives
Working with great people
Learning something new every day
How do you think working as a PT prepared you for this role?
I am able to provide my experience and knowledge from the clinical field and educate healthcare business industry leaders on the roles of conservative care providers, such as PTs, OTs, and SLPs.
Roughly speaking, how are the hours and pay compared to patient care?
They are similar to patient care.
What type of person do you think would do well in your role?
Well-rounded individuals who demonstrate:
Leadership skills
Listening skills
Comprehension skills
Willingness to accept criticism
Willingness to learn
Attention to detail
Confidence
Ability to communicate their thoughts well and provide input and ideas
Good ethics and principles
Do you work remotely or on-site?
Onsite.
Does your organization hire PT, OT, or SLP professionals into non-clinical roles?
Yes. All open SecureCare positions can be found on internet job boards.
Did you read any books, take any courses, or do anything special overall to get you where you are today?
I simply questioned things going on in the non-clinical side of physical therapy and wanted to find out if there were job roles in that area.
I started looking at insurance companies and third-party administrators' websites. I searched online job boards to see if there were non-clinical roles that required a degree in physical therapy and what qualifications were required.
What is a typical career path for someone in your role?
The important thing you can do is continue to better yourself. Collaborate and work with industry leaders, learn from them, and find opportunities to assist them.
What is next for you?
In the short term, I plan to continue to thrive and grow as a professional and leader within the physical therapy profession.
What do you want to do with your career long-term?
Eventually, I would like to pursue an executive MBA degree. I believe it's important for our profession to have leaders in the healthcare industry who can make an impact in reducing the rising cost of healthcare.
What's your favorite part about working as a PT Medical Management Director?
Since starting at SecureCare, I have met physical therapists who teach and do research, take on higher administrative roles within hospital systems or larger corporate entities, and started their own businesses.
What they all have in common is how they are improving the delivery of physical therapy in mainstream healthcare.
Whether you treat patients in a clinical setting or are a PT on the administrative side, we can all make a difference by taking on active leadership roles in the healthcare industry.
What would you recommend to someone who is considering going into a role like yours? Do you have any special words of wisdom for the readers?
Be open to challenges. There will be those that embrace your decisions and others who do not.
Always remain poised and respectful. Keep in mind the values and ethics that are important to you and your profession. Always treat others the way you would want to be treated.
What would you like to change most in your profession, and why? How would you propose doing so?
Communication. We need to inform the population what we do. Sometimes, we get into a PT mindset. We expect everyone to automatically understand what PTs do, but in actuality the majority of people do not. This includes MDs, insurers/payers, colleagues, friends, family, and even patients.
We must be able to educate the population, and highlight our value to them.
If you could give yourself one piece of career advice you wish you had during your PT school program, what would it be?
Be involved with your state and national associations.
I was an APTA member from 2006-2013, then rejoined in 2018 after starting at SecureCare. At that point, I became much more involved by attending national conventions and state meetings. These events allowed me to connect and network with people throughout the profession.
What led to this change in how you view being involved in state/national associations?
SecureCare regularly meets with state association leaders in various states. Through calls and in-person meetings, I realize how much people are doing to advocate for PT. If you're not active, you don't realize just how much they do.
Networking made me realize how hard our associations work for us. I met Matt Mesibov [Editor's note: Matt is the president of the Health Policy and Administration Section of the HPA, and he's such a good guy!] at the APTA NEXT conference in June. I joined the NE legislative committee and attended Legislative Day, where I was able to meet Nebraska's senators.
If you could teach anything to today's graduate students in your profession, what would it be?
Don't rush things, but still try to get as much experience as you can. PT is such a vast field; try different things and see what you like best and lean into that path.
Always keep learning—but, most importantly allow yourself to be taught. Find a therapist or healthcare professional who is willing to teach you the ropes in the areas that interest you the most.
Do you have any special advice for others who want to follow in your footsteps?
If you ask yourself questions about your career or profession, and you are not happy with the answer…don't be afraid to make things better and grow professionally.
---
Thanks for your insight, Erick!